Photo: weheartit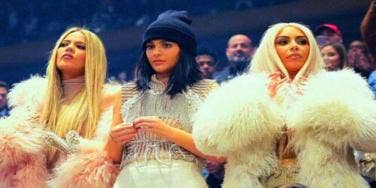 As told by the Kardashians.
I have very clear memories about the time leading up to the birth of my younger sister. I was four years old and was dying for someone to play with. I had grown lonely playing all by myself, and asked my parents for a little brother or sister.
I remember my parents asking what we should name my new little sister, and I vehemently answered, "Her name shall be Twinkle Twinkle Little Star." (It's been 19 years and I'm still disappointed they didn't take my advice.)
And then, when my mom was eight months pregnant, my dad took me to Sea World as one last hoorah as an only child. I suppose I probably should have been sad that my time in the spotlight was ending, but I didn't mind. I was so excited to have a new sister! After all, what kid wouldn't want a new sibling to complete their world?
When we went to pick up my mom and my sister from the hospital, I begged my parents to let me sit in the backseat next to her car seat. I would stare at my new baby sister as she slept quietly and touched her smoothe skin. But that is when it all went downhill.
She cried and screamed the entire ride home, and was the exact opposite of what I had been expecting. My dreams of having the perfect little sister were crushed in an instant.
I remember my four-year-old self feeling a profound sense of disappointment that I had never experienced before. I had spent all this time desperate for a playmate and all I got in return was a screaming monster who had no interest in playing dress-up or house.
So, with a little help from the Kardahsian fam, here are some of the worst things about having a little sister.
1. She's always around.
Seriously, it feels like you can never get a moment to yourself. Until that one guy tells you he likes someone else, or you got into a fight with your best friend. Then, it's nice to have someone readily available to hang out with who won't judge you for eating the entire box of Oreos.
2. She copies everything you do.
When everyone else is trying soooo hard to be an individual, it seems like little sis is doing everything in her power to be just like you. The upside to this is you can finally impart all of your wisdom to her to keep her from making the same mistakes you did.
3. She steals your clothes.
Where are those awesome new Lululemon leggings you just bought? Probably on their way to hot yoga with your little sister. While getting your clothes stolen sucks, there's a silver lining: Someday, your little sister is magically going to have better style than you, and then you can finally turn the tables on her.
4. She posts embarrassing pictures on social media.
It seems like no matter the holiday, she has to post a photograph of when the two of you were young. And while baby sister always looks adorable, you look like the girl straight out of the Exorcist movie. And yet, for every bad picture of you, you can post two more even worse ones of her.
5. She tells an endless stream of mortifying stories.
Next time little sis wants to start out a story, you can be confident that you have a story about her that is just as bad. Whether it's peeing your pants at SeaWorld or puking outside church, you two stay silent.
6. You two are always paired up at family functions.
No matter if it's a family reunion or a funeral, people just assume you two will sit together. Which can be boring... until creepy cousin Bill wants to talk about his pet gerbils and you need a quick escape. How only children survive family get-togethers without having someone to chug wine with, I will never understand.
7. She never holds back from saying what she's really thinking.
Like, jeez, maybe try to sugarcoat it for once. This can be harsh, until you're doing some serious retail therapy after a breakup and are minutes away from buying a neon green muumuu you're convinced looks amazing. While your friends might just smile and nod, Sis is there to give a strong hell no.
8. Her friends are always around.
You finally get used to always having your sister underfoot at home, and now she's gone out and made some friends? Ugh. Until you realize these new girls are actually pretty cool, and you agree to adopt them into your weird family trust circle (and maybe even into the family group chats).
9. You are stuck with her forever.
Friends change, lovers leave, but sisters are forever. While it may seem dumb and cliché, you know there's no better relationship out there than what you have with your sister. Whether it's sending ugly snapchats back and forth or serious life advice, little sisters are going to be there through thick and thin. And I wouldn't have it any other way.
Previous
Next
BEGIN