Photo: Cosmopolitan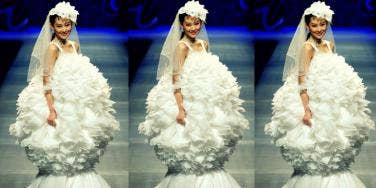 Say NO to the dress, in these cases.
A bride is supposed to be the most beautiful and best dressed on her wedding day. If she isn't, she'll kick anyone's ass who tries to upstage her
Beautiful brides? Maybe. But there are also some ludicrously bad dresses, and women with bad taste. And these are just a few of our favorites.
1. Pink camo wedding dress
Unless you're trying to blend into the forest and escape being mistaken for prey, we really don't understand why anyone would wear (or make) this dress.
Photo: treasuredmemories.tv
2. Nearly naked bondage dress
Traditionally, a wedding dress was meant to be wore by an innocent maiden. This was what the layers of white silk was about.
While that day may be largely gone, this nearly not-there dress leaves absolutely nothing to the imagination and puts a trashy spin on your big day.
3. Snowball dress
Bride or demon snow bunny? You decide.
Photo: funnycollectionworld.blogspot.com
4. Ghost dress
There's biblical stories about the wrong people getting married because the groom couldn't see his future wife's face beneath the veil.
While veils remain common to this day in many traditions, this dress takes it to a new level.
The bride looks more like the ghost of a bride than a current one. Spooky!
Photo: the-70s-fashion-archive.tumblr.com
5. Pin-cushion wedding dress
Remember those plush balls that grandma had to hold all her pins? Doesn't this 70's throwback look JUST like that?
Also, no idea how this bride sat ... or went to the bathroom.
Photo: countryweddings.com
6. Country bumpkin wedding dress
We're inclined to believe this bride is prepared to say her vows ... while milking the family cow.
Photo: funnycollectionworld.blogspot.com
7. Retro gothic wedding dress
While we're drawn to the Tudor court nature of this dress, it's definitely not for a wedding. Unless you're going for an Anne Boleyn's ghost theme ... and remember how she turned out?
Previous
Next
BEGIN