Photo: Paramount Pictures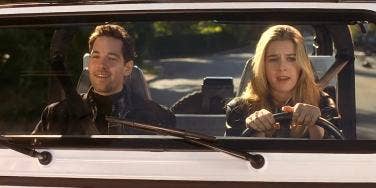 Whatever!
Back in 1995, Paramount Pictures released Clueless. At first, people just thought that it was a dumb comedy making fun of valley girls. Now, 20 years later, it's recognized as a modern day classic. People still talk about it and quote it, and wannabe rappers (Iggy Azalea) reference the movie in their music videos.
The movie also helped launch the career of Paul Rudd. Before Clueless, Rudd's biggest credit was from the sixth movie in the Halloween franchise. If it wasn't for Clueless, the world might not be aware of the ageless treasure that is Paul Rudd.
To celebrate the twenty years of Clueless, we've collected all the lessons about love that are in the movie. If you've got any problems in your love life, this is all you need. After reading the lessons of Clueless, if you're still having trouble with love, then you're the problem and you need to change ... and you're, well, totally clueless. Here are 10 lessons about love we learned from Clueless!
Photo: Paramount Pictures
1. Know what you deserve.
Don't just take the first thing that comes your way. Especially if it's just some random guy on the street.
Photo: Paramount Pictures
2. You have to watch out for those stop signs.
Sometimes, you have to do more than just pause. Everyone needs to stop and take a minute every once in a while.
Photo: Paramount Pictures
3. Always try to renegotiate.
If you didn't get what you want, don't be afraid to ask for it to be changed. It won't always happen, but it never hurts to try.
Photo: Paramount Pictures
4. Some people just need a makeover.
You never know who isn't just a makeover away from changing their life completely. Maybe you're that person.
Photo: Paramount Pictures
5. Communication is key.
It doesn't matter how you do it, but talking to each other will build a stronger relationship.
Photo: Paramount Pictures
6. Some things just aren't meant to be.
Sometimes, you like someone and then you find out that they're gay. It happens, and it isn't a big deal.
Photo: Paramount Pictures
7. Don't judge other people's relationships.
It might not be what you're looking for, but that doesn't someone else's relationship isn't working for them. Let other people be happy.
Photo: Paramount Pictures
8. Don't let other people take what you want.
Sometimes, you don't realize what you want until somebody else wants it. Now that person is your enemy and you have to destroy them. Don't be afraid to do just that.
Photo: Paramount Pictures
9. Opposites attract.
Just because two people don't share the same world view doesn't mean that they can't get along together. In fact, that usually makes things more interesting.
Photo: Paramount Pictures
10. We're all looking for Paul Rudd.
No, seriously. If you feel like you have something missing from your life, Paul Rudd is the answer. He's the answer to everything.
Previous
Next
BEGIN