Photo: thechive.com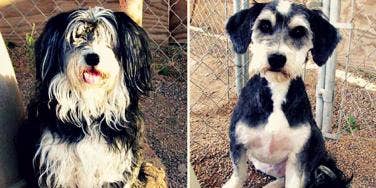 When you rescue a dog, you kind of rescue yourself too.
There are so many homeless animals out there on our streets. Our animal shelters are over-crowded and few of them are no-kill. But sometimes, a dog or a cat is fortunate and they're rescued, nursed to health, and find their forever homes.
The Chive shows the truly transformative power that can happen to a rescued animal. These dogs were lucky and got a chance at a better life. These pictures are both heartbreaking and inspirational.
It can be overwhelming to adopt a pet from a shelter, but if you do, it's a true act of kindness, and both you and your new pet/friend will benefit.
1. Who could say no to that face?
He's melting my soul with those eyes.
2. What a difference.
Pets will give back to you as much as you give them, and more.
3. From matted to manicured.
A beauty was lurking underneath that fur all along.
4. Before, a dog of fear; after, a dog of love.
Neglect can be as damaging as cruelty. But love can be as healing as medicine.
5. Truly an inspiring transformation.
This dog's transformation gives us hope for the other animals out there.
6. It's like he's begging to be saved.
Now he gets a cute little sweater and all the love he could ever want.
7. He's a completely different pup under that mess.
Life on the streets is dangerous for these helpless animals. This dog was one of the lucky ones.
8. This dog cleans up nicely.
A pet will love you unconditionally, and they ask for so little in return.
9. Look at that smile.
This dog is totally saying, "Thank you for saving me. I will be eternally grateful."
10. A new haircut, and a new life.
Dogs are good for your health — they help your blood pressure low when you pet them, and help you get exercise when you walk them.
11. A tiny dog with a big heart.
You could carry this little guy around in your pocket.
Previous
Next
BEGIN