Photo: jhallcomics.com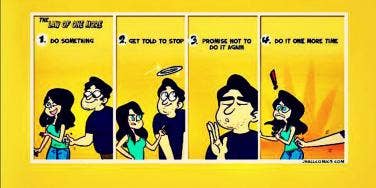 It's funny because it's TRUE.
No matter how close we are to our significant others, we can't always know everything they're thinking. We try to be open and honest, but it still seems as if we can't communicate properly.
Luckily, Jhall Comics shows us all different kinds of dating scenarios happen to people when they're dating and in relationships, but from a distinctly male point of view.
Creator Justin Hall uses many different styles in his comics. When asked why 90 percent of his comics look like they were drawn by different people, he responded, "I can't commit to a style, mostly because every time I start a comic I like to think, 'What can I experiment with for this one?'"
His comics may look differently from each other, but the hilarious voice behind them is constant:
1. Baggage is a normal part of new relationships.
You may not have a lot of stuff, but everybody has some baggage.
2. Less is more when packing.
Clearly, packing "lightly" means different things to men and women.
3. She doesn't understand how you can just get rid of clothes.
Those clothes were your friends. How could you throw them out like garbage?
4. An avocado goes a long way.
Getting a card that conveys what you really want to say is crucial.
5. Disasters can be a good thing!
Every relationship has its tests. Living together is the hardest of them all.
6. Be prepared to explain the entire movie to her...
She may tell you she doesn't mind watching your favorite movie, but she does. Oh, she does.
7. It's almost as if she's dating a toddler.
Previous
Next
BEGIN