Photo: weheartit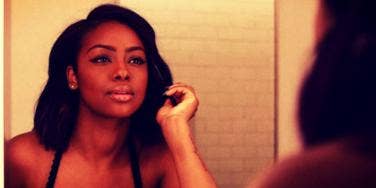 Beauty hacks that will make getting ready SO much easier.
By Andrea Christensen
It's a well known fact that when you look good, you feel good. But sometimes when you're forced to choose between waking up early to curl your hair or sleep... sleep wins once again, and you're stuck with your yoga pants all day.
Lucky for you, we're all about getting our beauty sleep and looking fabulous. Here are some life hacks that will make getting ready 50% easier.
Step 1: Hair
Having awesome hair is the key to looking flawless without having to do much. You want to get the kind of haircut where you can just wake up and go; preferably a style that looks best when it's messy-sexy. Make sure you trust your stylist to give you a good highlight/color job, and layers, so you can get away with it not looking super-sleek.

Here's a life hack you need to know: the best salons in New York are constantly looking for hair models. Don't be afraid, these are professionals that are going to make you look good, and look good for free. Make sure you do your research about the salon first; our favorite salon to be a hair model for is ARROJO.
Step 2: Purse
Another easy way to always looking pulled together: a designer purse. This is the time to splurge, people! You want to get a bag that is timeless and expensive. Or, at least, looks expensive. The purse that can pull the outfit together, and not TOO trendy, so you can use it for a long time. Think of it as an investment.
Step 3: Accessories
Having your accessories down mean that you're able to get away with more basic outfits and call it style. You don't need to spend hours getting ready in the morning, fretting over outfits when you can use that precious time to sleep! All you need is a signature necklace, a stack of bracelets, and some rings and you can dress up any old jeans/T-shirt outfit. For maximum class, gold accessories work better. Done and done!
Step 4: Nails
Along the same vein, a gel manicure will save your life. Instead of getting a regular manicure for $20+ that will chip in a week, spend a little more to get a gel manicure with will stay fresh for a month. It's worth it!

Pro Tip: If you want to get really fancy, get a Japanese gel manicure. These nails are accessories on their own! You will instantly look dressed up without even trying.
Step 5: Lashes
Your eyes are the windows to your soul. Don't let them go naked! If you're willing to go the extra mile, eyelash extensions will save your life. Imagine having beautiful, long, thick eyelashes right from the moment you wake up in the morning. Say bye to mascara! These babies last you 3-4 weeks.
Step 6: Lips
Get a lipstick that can easily go from day to night, and lasts for a long time.
Our pick is Stila's Stay All Day Liquid Lipstick in Patina. With a light coat, this color is a light, pretty pink for the daytime. Applied a little thicker, this color transforms into a dusty rose perfect for going out. A perfect two in one shade!
Previous
Next
BEGIN