Photo: Cosmopolitan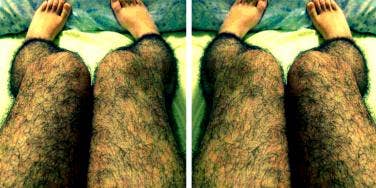 Stabbing tampons, anyone?
We can all agree that rape is horrifying and we should do whatever we can to stop it from happening. As a survivor myself, I appreciate the time and dedication that go into any and all efforts to stop rape.
But as a human being, I can't help but stare in awe at some of the ideas that have stemmed from those efforts. Here are five anti-rape devices that are surprisingly real.
1. Hairy leg stockings
"Hey, maybe he won't rape me because I haven't shaved!" is the dumbest thing we've ever heard, and yet these hairy leg anti-rape stockings actually exist.
2. Barbed condom
Think: Chinese finger trap + one way barbs + you wear it in your vagina = RapeX. This female condom-type device is worn inside the vagina and has barbs that are designed to lodge themselves into any penis that's inserted and then attempted to be pulled out.
RapeX was created by Dr. Sonnet Ehlers, a doctor in Africa who was trying to cut down on the high number of rapes that occur there. The theory was that if nearly all women would wear them, men would stop raping.
Unfortunately, critics feared the backlash an angry rapist with a shredded penis might have on his victim. Dr. Ehlers was hoping to distribute the device for as low as $2, but the product never really took off.
3. GPS "shocking" underwear
Worn as lingerie, the underwear sends an electric shock to whomever is touching the breasts of the woman wearing it. But it doesn't stop there. The underwear will then send out a GPS signal to whomever is listed as the underwear's emergency contact, letting them know you've just been groped and where you are. Though the product is still in production, it will be interesting to see if this ever makes it to market.
4. Stabbing tampon
FemDefence is a tampon-shaped device with a large protruding pin on one end. It's worn inside the vagina in the same way a tampon is, the difference being that the bottom of the device pierces penises that get too near to it.
Thankfully, this anti-rape product isn't real — it's merely designed to be a tool in rape prevention awareness.
5. Locking underwear
Called AR Wear, the underwear functions as a modern-day chastity belt. It's made of fabric that cannot be stretched or cut, and can only be removed by turning a tiny, little dial to a position known only to you.
The company just hosted an Indiegogo fundraiser that raised $54,000 in one month so the product should be available soon.
Previous
Next
BEGIN