Photo: Huffington Post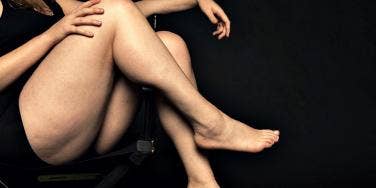 Can you describe your thighs with just one word?
Almost every woman has a part of her body that she doesn't like. It might be her arms, her stomach, her calves, or something else. To everybody else, they might consider this body part fine just the way it is, and are surprised when the woman expresses how much she hates it.
Body love is one of the most valuable gifts we can give to ourselves, but it isn't always easy to achieve.
There are many ways to love our bodies, even those parts that challenge us. One way is to think about how our bodies serve us, and how they actively help us reach our dreams.
The Huffington Post recently photographed the thighs of a diverse group of women between the ages of twenty and seventy. The women were asked to use one word to describe their thighs, and then talk about her relationship with the upper part of their leg that causes so much turmoil for many.
We need to think of the positive attributes about our bodies, make peace with it, and be grateful for all that it lets us do, and all the fun we get to have because of it. We're the advocates for our bodies.
Don't compare yourself to models you see in magazines and advertisements — even those models have their own issues. Not to mention their pictures are airbrushed and photoshopped so they can appear perfect and flawless.
Let's love all our body, starting right now with our thighs.
Here are five powerful shots from the untouched thighs of these brave women:
Photo: Damon Dahlen/Huffington Post
1. "Powerful"
"I really love my thighs. I love the strength of them and how I can run for miles with them.
There have been times (notably when the 'thigh gap' was trending) that I didn't like my thighs, but thanks to Nicki Minaj, Bey and Rihanna, I love my thick thighs. I would never want anyone else's."
Photo: Damon Dahlen/Huffington Post
2."Magical"
"... they are the thighs that I tightly gripped as I birthed my beautiful son. They have changed shape and form over the years, but I can't allow my appreciation to waver — a task that is easier said then done.
However, at the end of the day, they are amazing. My ample, dimpled thighs might not meet society's standard of beauty, but they are stunning and everything to me. And really, that's all that matters."
Photo: Damon Dahlen/Huffington Post
3. "Soft"
"I've wasted an inexplicable amount of time and energy in my life worrying about the fact that my legs don't necessarily fit into what society says they're 'supposed' to look like. As much as I think I've shaken that the older and more confident in myself I've grown, it's still something I find myself worrying about.
Luckily, those days seem to grow farther apart with every year. In the end, these thighs are uniquely mine ... When I look at them today, I don't worry about how they'll fill out my shorts, but I see all the places they've gone or will go, and I'm proud."
Photo: Damon Dahlen/Huffington Post
4. "Sturdy"
"I go through periods of feeling pretty self-conscious about them, because I have a lot of stretch marks. But when I mentioned that to my boyfriend a few weeks ago he was like, 'What are you talking about?' which reminded me that no one is as critical of my body as I am."
Photo: Damon Dahlen/Huffington Post
5. "Supportive"
"They're not my favorite part of my body, but they're OK. They're much stronger than they used to be, thanks to lots of spinning."
Previous
Next
BEGIN