Photo: 20th Century Fox Television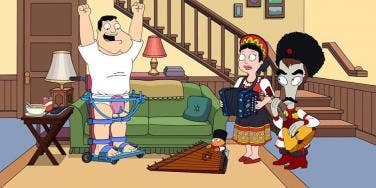 Seriously, you'll never look at life the same way again.
We all know that porn parodies exist. We're not sure why, but we all know the they're out there. I'd imagine that they're easy to write: you just take an existing movie and add sex. (I also imagine that regular porn is pretty easy to write: write anything and just add sex, or don't write anything and just add sex.) I'm not sure who porn parodies are supposed to appeal to, though. When I go to the movies and see a good movie, I've never been like "Okay, let's see that again but with worse acting and more sex!" It's just a weird genre of porn that we all try not to think about too much.
The thing is, in recent years, porn parodies have gone a little insane. It used to be that porn parodies were tongue in cheek affairs. They were more inspired by a famous movie than directly parodying it. These days, there's a porn version of The Avengers, and it's about The Avengers. Not a team similar to The Avengers, but Captain America, Iron Man, and even the Hulk. It's legal because it's clearly labeled a parody.
Porn studios will take any property and make a porn version of it. Any property. It's so uncomfortable. Sure, there's a lot of weird porn out there, but it's usually just porn. Why does it have to involve characters or people that aren't porn related at all? Ugh, here are the creepiest porn parodies. It won't make you happy.
Photo: 20th Century Fox Television
1. "American Dad!"
There are other cartoon parodies on this list, but what makes the American Dad! parody extra creepy is that the porn includes Roger, a sexually ambiguous alien. He's played by a man wearing an incredibly uncomfortable costume, and even gets to participate in the activities. Worst of all, he stays in character the entire time. Yes, even during.
2. "The Simpsons"
I don't know if you've ever noticed this about The Simpsons, but they're not drawn anatomically correctly. They're yellow, and often feature strange, sometimes blue hairstyles. So this is a great porn if you want to see people getting busy covered in yellow body paint while wearing bad Halloween wigs.
Photo: Warner Brothers Television
3. "The Flintstones"
If you ever watched The Flintstones and thought "Hey, there's a lot of sexy potential here," then you're a monster and belong in jail. Go live in the woods or something.
4. "The Dark Knight"
When it came out, The Dark Knight was the biggest thing in the world. Of course porn studios would want to take advantage of that. They included a Joker based on Heath Ledger's portrayal, which is uncomfortable because Ledger died during The Dark Knight's post production. Basically, some porn actor dressed up like a recently dead man and then had sex on camera. Gross.
5. "Street Fighter"
This isn't the weirdest concept on this, but the Street Fighter parody presents itself like a match during the game, so that implies that there are two players who completely ignore all the special moves in favor of the sexy moves.
6. Sarah Palin
She might not be the most respected person on the planet, but Sarah Palin is still a person. Also, a mother. She opened herself up to political satire, sure, but the Sarah Palin porn isn't really sending up her politics.
Photo: Paramount Pictures
7. "Paranormal Activity"
The porn parody of Paranormal Activity is great if you're really into time management. Why spend hours of the day watching a horror movie, and then spend more time watching porn when you could just combine them? Then you'll have more time to go out and be a horrible person!
8. "Judge Joe Brown"
Judge Joe Brown is a reality court show where people sue each other while Judge Brown is kind of cranky the whole time. This is porn based on a real person, not a character on a TV show. A cranky old person. Everything about this is weird and not right feeling.
9. "Celebrity Rehab"
The actual show Celebrity Rehab was already kind of sleazy. Dr Drew basically profited off of C-list celebrities' addictions. The porn version turns things up a notch by featuring an actual cast member, Mary Carey. I've never gone through a 12-step program, but I don't think any of the steps are "repeat each step, but this time include a bunch of sex."
10. "The Walking Dead"
Watch an episode of The Walking Dead and count the rotting corpses featured per episode. If you still think that's a concept that lends itself to sexy, then we disagree about everything.
Previous
Next
BEGIN