Photo: WeHeartIt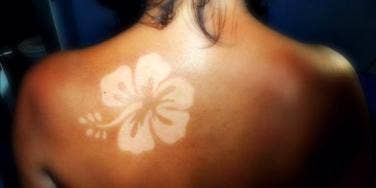 Really, people? Really?
It used to be that teenage girls worked on their tans, and showed their bathing suit strap marks as a badge of honor — the greater the contrast, the greater the sense of accomplishment. You tried not to burn, as your skin would just peel off anyway.
But a dangerous new trend has sprung up among artists and sun-worshippers alike. People are now doing sunburn art with the use of stencils or free-hand, and apply sunblock to create detailed sunburn designs on their skin.
The body is the canvas, and the sun's rays are the material.
Is much of the sunburn art beautiful and amazing and spectacular? Yes, but it's also extremely dangerous.
Melanoma is the most serious form of skin cancer and is caused by overexposure to ultraviolet light, which comes from the sun, sunbeds, and sunlamps. Other contributing factors to skin cancer include a family history, if you burn easily, and if you have moles or freckles.
Your risk of getting Melanoma doubles if you've gotten sunburn five or more times.
In an interview with People Magazine, dermatologist Elizabeth Hale said, "Skin cancer is one of the few cancers where we know exactly what causes it. It can largely be prevented as long as you don't do stupid things like indoor tan — or sunburn art."
The sunburn art will fade, the damage you do to your skin will not:
Photo: Instagram/christian_pirkkala
1. Spaghetti straps frame this sunburn art
I think a mahogany frame would look better, don't you?
Photo: Instagram/carbonated.tv
2. A temporary tattoo would've done the trick...
The clarity of this incredible piece of sunburn art is impressive.
Photo: Instagram/mcxerocool
3. This poor guy...
Is this a sunburn artist or the victim of a prank?
Photo: Instagram/kingkongkarma
4. Even anarchists are getting in on the action
Is it A for Anarchy or A for "Ahhh, my back HURTS"?
Photo: Instagram/bbear430
5. Pretty, but SO not good for you
An amazing example of sunburn art — so detailed and beautiful, but at what cost?
6. Wow, that's some real dedication
When you can't get to the Louvre to see the Mona Lisa, just create it on your chest in the medium of sunburn.
Previous
Next
BEGIN