Photo: Buena Vista Pictures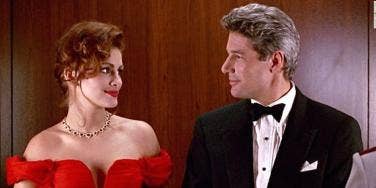 These will get you more bothered than hot and bothered.
Movies with sex scenes in them aren't really necessary anymore. It used to be that a movie having a good sex scene was a nice bonus. If you wanted to watch two people have sex (for whatever reason), you could pretend that you just wanted to watch The Collector and not feel like a complete perv. These days, if you want to watch two people have sex, then you literally have every single porn ever made or a ride on the New York City subway. If you're going to watch an actual movie, you're not doing it for the sex.
This change has made some classic movies look kind of creepy now. Back when they were released, people were happy just for the sex scene. Today, people can be a little bit more discerning about it. Instead of a nice bonus, the scene has to actually make sense within the movie. Often times, they don't even come close.
You can tell that the producers just threw the scene in to help sales. It's incredibly obvious, and the details of the scene don't make any sense, or they add a new layer to the movie's story that just makes the whole thing uncomfortable. Here are 10 classic movie sex scenes that are unintentionally creepy.
1. "A History of Violence"
Maria Bello surprises her husband, played by Viggo Mortensen, with some kinky role playing. She chooses the cheerleader outfit, which on its own wouldn't be creepy. When she starts a cheer routine into the actual sex, however, it just gets awkward and uncomfortable.
Photo: Paramount Pictures
2. "Titanic"
Everyone remembers the classic scene from Titanic where Jack and Rose have sex inside the car. They sneak into the cargo hold and have sex in someone's car. Imagine that was your car? They didn't know the boat was sinking, at that point they still thought they were going to get to their destination. The poor owner of that car was just going to be like "Does it smell funny in here? Also, why is there a hand print on the window?"
3. "The Terminator"
In The Terminator, John Connor sends his friend Kyle Reese back in time to protect his mother, Sarah Connor, from killer robots. While in the past, Kyle and Sarah fall in love, and Kyle impregnates Sarah with John. While the scene is supposed to show two people giving into their passions, it really just makes the viewer wonder, "Did John Connor send Kyle back to bang his mom?"
Photo: Dreamworks Pictures
4. "Shrek"
I know it's supposed to be a joke, but there are little donkey dragon babies as a result of this union. Obviously, being a kids movie, they don't show the actual act. Still, how exactly did that work? I don't want to know, but also really want to know.
5. "Risky Business"
Tom Cruise has sex with a prostitute, played by Rebecca De Mornay, on the Chicago L train. Sure, the train is empty at the moment, but it's still public transportation. I don't care how much protection he used, his character definitely ended up catching something.
Photo: Touchstone Pictures
6. "Pretty Woman"
There are several scenes in Pretty Woman where Julia Roberts and Richard Gere have sex. People always say how romantic this movie is, but it's still about a guy who hires a prostitute and has a bunch of sex with her.
Photo: Paramount Pictures
7. "Ghost"
Everyone usually talks about the scene from Ghost where Patrick Swayze possesses Whoopi Goldberg's body so he can have a romantic moment with Demi Moore. I'm talking the pottery sex scene though. Sure, it looks romantic, but don't forget that their hands are covered in clay. Have you ever been making love and thought, "You know what I'd like right now? Some clay!" No, no you haven't.
8. "Dirty Dancing"
Sure, Dirty Dancing is romantic, until you realize the probable age difference between the characters. Baby is still a teenager, and Patrick Swayze was in his mid 30s at the time. Also, he was her dance instructor, so he's basically just a teacher having an affair with a teenage student.
9. "Boogie Nights"
Boogie Nights is about the porn industry, but it never gets too gross. There is one scene where Mark Wahlberg has to perform on camera for the first time, having sex with Julianne Moore. She comforts him during the scene, and the two have a sweet moment. Until you remember that there's a whole camera crew there, and they are in fact still filming a porno.
10. "Wild Things"
Matt Dillon, Neve Campbell and Denise Richards are all very attractive people, so the three of them hooking up shouldn't be a problem. Dillon is playing the two girls' high school guidance counselor, though, so it's pretty gross.
Previous
Next
BEGIN