Photo: instagram.com/bridgettv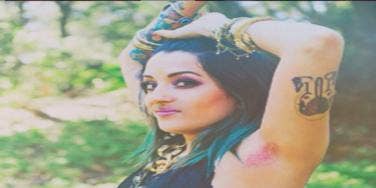 Are you brave enough?
I have been an active member of the hair-wars since 7th grade. I'm constantly waxing, plucking, laser-hair-removing, and shaving. When I say constantly, I'm not exaggerating.
Whenever I can, I'm facing off against some kind of follicle, determined to take it out. The problem is that the battle seems never-ending.
I wouldn't say that I'm totally up on every new beauty trend that comes along, but when something like having dark roots is suddenly cool and I don't have to get my hair highlighted (kind of the law in SoCal) as often, I'm all for it.
When I heard that the newest trend in armpit hair (and really how many trends have there been regarding armpit hair?), I was beyond happy. Media, and Miley Cyrus especially, now advocate for not shaving and letting your underarm hair grow so you can dye it, braid it, and/or decorate it with beads and fun armpit accessories.
It's the best underarm-hair news ever.
Did I mention I hate shaving? I do. I resent it. I hate that sting that comes when you put on lotion or deodorant right after shaving. But now, I can let that underarm hair grow. The longer, the better.
The colors you can dye your armpit hair are simply fantastic. Dye it Bubblegum Pink, Mermaid Aqua, Popsicle Orange; match the hair on your head, or the yellow curtains in your kitchen. You can even dye it multiple colors and put on little stick-ons, sequins, and tiny earrings.
A Seattle hairdresser named Rosie Hunt is credited with starting this trend. And it isn't just about having colorful armpits; it's also about embracing personal freedom and making conscious choices about your body. You don't have to shave, because that's what society has told you that you need to do.
It's funny how something like not shaving can seem like an act of civil disobedience.
For ladies and gents interested in dying their pits, here's the step-by-step directions:
Apply bleach to your underarm hair with a professional brush applicator. You can get these at any beauty supply store.
Leave it on for about 20 minutes, depending on how easily bleached your hair is.
Rinse the bleach out really well. Dry your hair.
Next, apply a dye with professional brush applicator and leave it on for 30 minutes to achieve a rich, vibrant color.
When your color starts to fade and you need a touch-up, use gloves and put a tiny amount of dye between your index finger and thumb. Apply about a centimeter from the base of the hair, so as not to color your skin.
For the first few days after dyeing, don't wear your favorite or best shirt, as there can be residue that stains clothing.
But it's all worth it — the dyeing, the stains, and the quite possibly the mess — because every time you lift up your arm, you're going to be so happy.
And if those step-by-step instructions aren't doing it for you, or if you need a little pit-spiration, check out these DIY creations:
Photo: Instagram/freeyourpits
1. Pink pits really pop
Pink pits make a statement, plus they're really vibrant and fun.
Photo: Instagram/freeyourpits
2. Matching head-hair and armpit hair
Orange head hair and orange pit hair isn't too matchy-matchy, but it sure is a super fun fashion statement.
Photo: Instagram/guillotinehairlounge
3. Can't miss vivid purple armpit hair
You'll definitely get noticed when you're rocking purple underarm hair ... and a smile.
Photo: Instagram/freeyourpits
4. Yellow pit hair is the color of happy
Is that Tweety Bird you've got hidden in your armpits?
Photo: Instagram/ladypithair
5. Am I blue for you?
To stay calm and relaxed, blue is the perfect color. Go ahead and blue it. You won't be sorry.
Previous
Next
BEGIN