Photo: WeHeartIt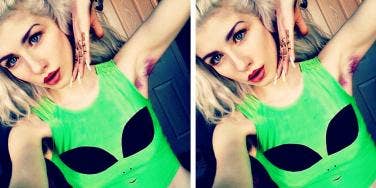 Who's in for this new kind of body art? Raise your arm — or both of them.
The clothes we wear, the things we do with our hair, and the tattoos we have inked on our bodies outwardly express who we are. Our bodies are our canvases, and each piece of jewelry or makeup is a little piece of our own unique story.
One part of the body that's been ignored, until recently, as a place to be creative is the armpit.
Most of the time, we try to forget about that pit of annoyance and focus on other parts of our bodies. In fact, many women believe that their underarms are ugly, disgusting, and hate that they sometimes have to deal with underarm-breakouts, itching, and smell. Some women even use Botox injections to stop excessive sweating in the underarms.
Underarms are actually an erogenous zone, and it can be very arousing to be touched or kissed right in that spot.
Besides being a part of sexy time, the underarms are becoming another body part to decorate. Women are growing their armpit hair out, dyeing it, and bedazzling — pitjazzling it.
If your armpit hair is long enough or you have extensions, you can attach ribbons, beads, and tiny toys. You can even braid your underarm hair, or put it into ponytails using small, multi-colored rubber bands.
For those looking to go the extra mile for a super fun look, try using fake crystals, gemstones, glitter, sequins, and stickers. Let your imagination go wild and use anything unexpected and whimsical to bedazzle and amaze.
If you prefer your underarms to be free from hair, why not try a cool tattoo right in the middle of your armpit? It's a great place to be kissed and touched, so why not have something there to get that spot noticed?
So, who's in for this new kind of body art? Raise your arm — or both of them.
1. A secret garden under your arm
You'd be surprised at the items in your house or yard that you can use for pitjazzling.
2. Mix color ... and glitter
Make your pits shiny and new with this fun addition.
3. Even tiny accessories aren't forbidden
The key to underarm art is to not take yourself too seriously. So, let go and have fun by adding clips of any color and shape.
4. Glow in the dark makes your pits look like a galaxy
Find inspiration in the world around you, or in the stars above.
5. Gemstones and sparkles
You won't need any accessories if you've got multi-colored jewels under your arms.
6. Add more hair onto your hair with extensions.
Don't limit yourself to the small things. Think outside the box, mix and match, and add some extensions.
Photo: christineschoenwaldwriter
7. You'll give Kay Jewelers a run for their money
You can be as elaborate or simple as you want. I used theatrical spirit gum, which is usually used for stage facial hair, and it worked GREAT.
Previous
Next
BEGIN