Photo: IMDB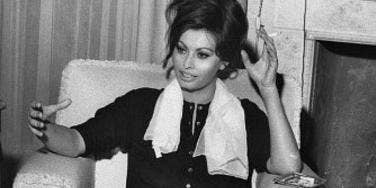 Some alluring insight from the sexiest women of Hollywood's Golden Age ...
Nobody knew sex appeal like the ladies of the Golden Age of Hollywood. Their most memorable alluring characters had men drooling even before entering the cinema. They're senseis of sex appeal and taught generations of women what sexy really is.
From flowing dresses to ... well, barely anything, they used fashion to their advantage, leaving a lasting legacy of sexual prowess. And they OWNED every bit of that fashion sense.
These women established the standards of beauty. They established what it means to be an intelligent, independent woman who can make men melt with simply a swift yet seductive look, a flowing dress and a little bit of red lipstick.
These powerful females of the Golden Age of Hollywood could make a man weak in the knees on the big screen and off. With those same men, they've had their fair share of love, loss and a WHOLE lot of sexiness. You'd think the scandals and romantic love stories came straight out of the movies!
From Audrey Hepburn to Mae West, these women knew everything there is to know about sex, love and men, and delivered their wisdom in perfectly quotable one-liners. Check out these fabulous love quotes to learn about love, sex and men from the best.
If you're searching for the best quotes and memes to share with the people you love (or just want to feel inspired yourself) ... look no further! From the sweetest love quotes, inspirational sayings, and hilarious relationship truths, we've got you covered.
1. Marilyn Monroe
"Sex is a part of nature. I go along with nature." — Marilyn Monroe
2. Bettie Page
"Sex is a part of love. You shouldn't go around doing it unless you are in love." — Bettie Page
3. Katherine Hepbrun
"If you want to sacrifice the admiration of many men for the criticism of one, go ahead, get married." — Katherine Hepbrun
4. Audrey Hepburn
"There is more to sex appeal than just measurements. I don't need a bedroom to prove my womanliness. I can convey just as much sex appeal, picking apples off a tree or standing in the rain." — Audrey Hepburn
5. Mae West
"I generally avoid temptation unless I can't resist it." — Mae West
6. Marlene Dietrich
"In America sex is an obsession, in other parts of the world it is a fact." — Marlene Dietrich
7. Bette Davis
"I often think that a slightly exposed shoulder emerging from a long satin nightgown packs more sex than two naked bodies in bed." — Bette Davis
8. Ava Gardner
"Sex isn't all that important, but it is when you love someone very much." — Ava Gardner
8. Hedy Lamarr
"When I attained a certain advanced intimacy with a man, and I don't just mean sex, I married him." — Hedy Lamarr
8. Rita Hayworth
"All I wanted was just what everybody else wants, you know, to be loved. " — Rita Hayworth
11. Veronica Lake
"I wasn't a sex symbol, I was a sex zombie." — Veronica Lake
12. Betty Grable
"You're better off betting on a horse than betting on a man. A horse may not be able to hold you tight, but he doesn't want to wander from the stable at night." — Betty Grable
13. Judy Garland
"I can live without money, but I cannot live without love." — Judy Garland
14. Elizabeth Taylor
"I am a very committed wife. And I should be committed too — for being married so many times." — Elizabeth Taylor
15. Sophia Loren
"Sex appeal is fifty percent what you've got and fifty percent what people think you've got." — Sophia Loren
Previous
Next
BEGIN