Photo: IMDB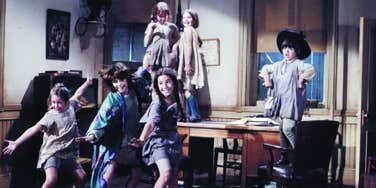 People age, even if our memories of them don't.
Long before Jay-Z sampled "Hard Knock Life," there was adorable little Annie, living it.
But it's been over 30 years since one of our favorite movies was released, and now the downtrodden orphans are all grown up. Except for Tim Curry I guess, who was basically grown up when it came out.
It's amazing to see how much these iconic characters have changed over time (and how time flies!).
So where are they now? Check out the gallery below to see who's winning Emmy's, and who fell off the map completely.
Photo: movpins / Pinterest
Annie (Aileen Quinn)
Aileen Quinn continued her acting career after Annie, but that's nothing compared to her totally rad, straight from the 90's official website.
Not even the death of Geocities could kill this magnificent beast.
Photo: Showbiz Geek / Showbiz Geek
Molly (Toni Ann Gisondi)
Toni Ann Gisondi has settled down with a family (a husband and two daughters), and may or may not be a teacher in New Jersey, according to the dreaded Wikipedia "citation needed" caveat.
Photo: Snakkle / Wikipedia
Pepper (Rosanne Sorrentino)
Wikipedia SAYS she continues to be an actress and singer to this day, yet lists no other films or music productions other than Annie.
She is married with two kids and teaches middle school English in Long Island, so I guess don't quit your day job?
Photo: Pinterest / Showbiz Geek
Tessie (Lara Berk)
Lara Berk is married with two kids, working as a legal recruiter and no longer in Hollywood.
Oh my goodness!
Photo: Pinterest / FanPix
Kate (April Lerman)
April Lerman appeared in 80's sitcom hits Growing Pains and Charles In Charge. Since then, she earned a law degree, but decided to fight for the side of good and not become a lawyer.
She is now a counseling psychologist for teens and adolescents in California.
Photo: Pinterest / Google
Duffy (Robin Ignico)
Robin Ignico was in a couple television episodes after Annie and then was never heard from again apparently, as Wikipedia's history on her just abruptly ends without warning.
Rooster Hannigan (Tim Curry)
Tim Curry (AKA that guy from Rocky Horror Picture Show) is one of the only members of this cast to maintain a career in show business after Annie.
Fun fact: Tim Curry has also voice acted for tv shows, animated movies and even video games.
We're so glad to see he's bouncing back from his recent stroke to not only regain his humor, but also earn a lifetime achievement award from the Tony's. Bravo.
Previous
Next
BEGIN