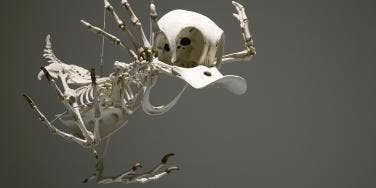 Bugs Bunny, Goofy, Daffy Duck and more — in skeletal form.
When I was little, I couldn't wait to get up on Saturday mornings and watch cartoons. Bugs Bunny, Goofy, and Daffy Duck were like friends to me. But for some people, watching their favorite cartoon characters isn't enough — some cartoon fans need to get closer than a television screen to their favorite characters.
Cartoons are many different things to many different people, and for some cartoons inspire their own art, whether it's re-imagining their favorite characters in their own drawing and sketches, or making sculptures of what the skeletons of cartoons might look like. There are others who dress up as their favorite characters or write cartoon fanfiction in tribute.
But for Hyungkoo Lee, his art involves imagining what the under-the-flesh bone structure of cartoon characters — like Donald Duck, Daffy, Goofy and Tweety Bird — might look like.
His envisioning of their skeletal structures is morbid ... and beautiful.
He uses resin, wire, aluminum, sticks and paint to create the skeletons. His sculptures seem animated, much like the cartoon characters themselves; they appear to jump, pounce, and run faster than a blink of an eye.
The origins of many cartoon characters aren't happy-go-lucky, but rather dark. Many cartoon characters are angry, depressed, and in some cases, suicidal, so art featuring a death symbol like a skeleton makes sense.
Aren't we all just skeletons under the skin?
By creating what these characters would look like if they were bunnies, and dogs, and mice, it strips away the façade giving us an opportunity to look at these characters in a completely different way.
I'm pretty sure, however, that Hyungkoo Lee's skeletal figures wouldn't survive swallowing a stick of TNT, or having a boulder fall on them.
1. Donald Duck
Can you feel the fury from this ever-angry duck? His bony bill is still wide open, no doubt to spout more angry words at anyone and anything.
2. Bugs Bunny
You can still kinda see him still grinning in mischief, eh, Doc?
3. Felix The Cat
He's still so sassy-looking.
4. Goofy
Take it from Goofy: stop slouching or your spine is going to look like this.
5. Huey, Duey, and Luey
You can still see these boys being cautious of their Uncle Donald's never-ending temper. It haunts them even now.
6. Roadrunner
We're running, too ... in the other direction ... far, far away from this guy.
7. Wile E. Coyote
Looks like he hasn't given up on Roadrunner at all.
8. Tweety and Sylvester
Even as skeletons, this "puddy tat" is never going to stop until he gets the ever-elusive Tweety.
Previous
Next
BEGIN