Photo: WeHeartIt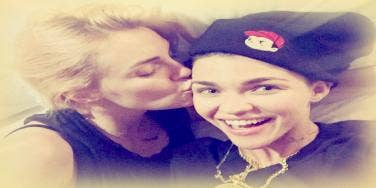 What's not to love about this adorable couple?
Ruby Rose is the hot star of the moment. But, she is WAY more than her gorgeous looks, if you ask us.
She's just packed with multi-faceted, raw talent. We're not the only ones who see it, though. The new OITNB star's similarly talented fiancé, fair-trade fashion designer Phoebe Dahl, constantly gushes over Ruby's talents and incredibly successful projects. (How sweet!)
They're the new power couple of the TV and celebrity world, and we love every bit of them.
They're your new #RelationshipGoals role models because:
1. Not only are they immersed in each other's love, but they also work together for LGBTQ and human rights. (Amazing!)
2. As best friends, they're each other's loudest cheerleaders.
3. Time to step your Instagram up and find your best duo pose because your #gramming skills are surely not as on point as Ruby and Pheobe's, not that they've created the standard for couple pics.
4. They've created a new meaning for matching accessories with the perfect mix of slightly gross and sincere devotion.
All this loving and cuteness is too much to handle! But I think you can deal for a bit and gain some charming relationship wisdom. Grab your bae, some stylin' matching outfits, and your little pooch children and admire the love between this inspiring couple.
Here's to a long, loving and adorable relationship...
1. Ruby Thought Phoebe's Proposal Was A Prank!
Ruby had asked Phoebe to marry her THREE times. Phoebe was afraid to say, "yes," after only three months of dating. Eventually, Phoebe felt it was time to pop the question, so she broke into Ruby's house with flowers, coffee and this ring — handmade with an ethical, unaffected diamond. (So like the human rights and fair trade designer to gift her future wife.)
Ruby says on Instagram, "After asking her to be mine 3 times always to be rejected, I swore I'd never ask again ... then this morning at 6 AM, she broke into my house with flowers, coffee and a question ... and I said go f*ck yourself ... just kidding, I said."
2. Kids Are DEFINITELY In Their Future
Kids are definitely in the cards for this future married couple. Sources say Ruby confirmed that the happy pair plan to adopt at least one child and have kids of their own that they will both carry.
3. Pheobe Left Her Former GF for Ruby!
Phoebe says that she was so struck by Ruby when they first met at her BBQ get-together with friends that she left her girlfriend for her. She says that she was in a relationship waiting to end, so it happened at the right time. So far, we don't see this new relationship ending anytime soon!
4. Love (And BBQ Ribs) Brought Them Together
Ruby and Phoebe both say that for them it was love at first sight, although that may sound a bit corny. Not the "homewrecker" type, Ruby avoided pursuing Phoebe at her BBQ. That night, Phoebe broke up with her girlfriend to make room for Ruby in her life.
5. 3 Months To Fall In Love
Phoebe and Ruby were dating and spending almost every day together before Pheobe decided it was time to propose in her own quirky way. Phoebe was going to spend a few months in Nepal, but couldn't even think of being apart and spending her life with anyone else. This is like a scene straight out of the movies! So romantic! Can't deal!
6. I Love You ... Now That We're Engaged!
Ruby and Phoebe hadn't said, "I love you," until the day of their elaborate and quirky engagement proposal. When Ruby asked if this was a prank, Pheobe said "I'm absolutely serious, I love you and want to spend the rest of my life with you."
7. The Tattoo That Represents The Love
Ruby inked her love for Phoebe on her back along with her tons of other tattoos - a sweet gesture to commemorate their deep love for each other. The cool heart tattoo with hers and her fiancé's names is on Ruby's back below another tattoo.
In a comment below the Instagrammed picture, Ruby says, "Whoops spelt Romeo and Juliet wrong, oh well." The cuteness is just too overwhelming!
8. They Have Skype Dates Whenever They're Apart
With their hectic lifestyles and careers, it's difficult to spend time with each other. In order to stay connected whenever possible, this sweet couple texts and Skypes each other often.
Photo: Instagram, Instagram, Instagram
9. Twinning Is A Necessity
10. Their Accessories Are... Interesting
The power couple enjoys wearing the sweetest accessories that really show their loving bond. They both wear gold necklaces of each other's names in script. But that's not all. Ruby normally wears a necklace with a vial containing Phoebe's BLOOD.
Yes, you read that correctly. She does this to show that they'll always be together no matter how far away they are at the moment. A beautiful sentiment!
Photo: Instagram, Instagram
11. They're The Definition Of Loving Pet Parents
This couple LOVES their cute pets! Their Instagrams photos are full of them. Everything from a black and white, curly-tailed pig to a bunch of perky dogs. They even have a playful cat!
They're the most adorable animal lovers; this couple just has so much love to go around! And it's perfect practice for the babies on the way...
Previous
Next
BEGIN