Photo: Instagram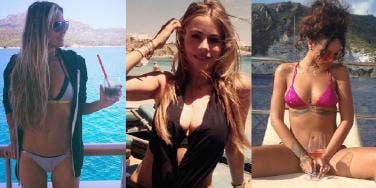 Celebrity bikini bods get real.
Swimsuit season is upon us, and whether you're opting for an itsy bitsy teeny weenie yellow polka dot bikini or a chic one-piece, chances are you're stressing a little bit about looking your best. You shouldn't stress, of course, because you are flawless and beautiful the way you are, but it's an understandable sentiment. Even celebrities freak out a little over their bikini bodies, because they're under even more scrutiny and face even more judgment than the rest of us plain Jane plebeians. Still, they at least show confidence on the outside, even if they're not totally happy on the inside. Here are 20 stars who aren't ashamed of flaunting what they've got, be it at the beach, in the pool or just on Instagram for their zillions of followers to drool over.
1. Ashley Benson
Pretty Little Liars starlet Ashley Benson hit the beach with a buddy.
16. Mariah Carey
Mariah Carey heats up Aspen in this Christmas photo. Wonder if this got her on the naughty or nice list with Santa!
17. Miley Cyrus
Miley Cyrus could just relax on the beach, but then would you look at her? Because she really wants you to look at her. She's like, really edgy.
18. Naya Rivera
A pre-pregnancy Naya Rivera flaunts her gleeful bod on the beach.
19. Nina Dobrev
Nina Dobrev focuses more on filling her life with adventure than how she looks in her swimsuit. And yet she still smolders with a smile.
20. Paris Hilton
Paris Hilton in a bikini. That's hot.
21. Rihanna
Barbados born and bred, Rihanna probably feels most like herself in a bikini. Okay, and maybe with some booze. Do you, girl!
22. Rita Ora
Rita Ora is hotter than any scene in Fifty shades Of Grey just by rocking a swimsuit on a boat. Eat your heart out, Anastasia Steele. And dude, someone get her an agent who will get her more work. The girl is talented, too!
23. Selena Gomez
Selena Gomez captioned this shot, "More to love." Atta girl!
24. Serena Williams
Serena Williams hits the court hard for that champion's bod. She should show it off!
25. Shay Mitchell
Mirror mirror on the wall, is Shay Mitchell the prettiest little liar of them all?
26. Sofia Vergara
Sofia Vergara embraces her natural curves, and she should. Joe Manganiello is a lucky man!
15. Lea Michele
Lea Michele gets cheeky on vacation in Mexico.
14. Lady Gaga
Lady Gaga enjoys the Bahamas looking healthy and happy on June 15.
13. Kylie Jenner
Orange you glad to see Kylie Jenner poolside? The youngest Kardashian klan member works her signature pout with a mismatched two-piece.
2. Bar Refaeli
Bar Refaeli is most famous for being Leonardo DiCaprio's longtime on-again off-again girlfriend. They've been off for a long time, and frankly, single life looks great on her.
3. Beyonce
They don't call Beyonce Queen Bey for nothing. The singer stuns in her two-piece, but the most attractive part of all? Her smile. She's glowing!
4. Demi Lovato
Demi Lovato shows what it takes to really look amazing in a bikini: A smile. The singer has battled bulimia and body image issues for years, so to see her so at ease and having so much fun is really what makes this one beautiful bikini shot.
5. Elle Macpherson
They don't call Elle Macpherson "The Body" for nothing! She's still slaying at 51 years old.
6. Emma Roberts
Emma Roberts lounges in the sand like a mermaid. She's a real beauty, just like aunt Julia Roberts.
7. Gisele Bundchen
Gisele Bundchen's prancing may be part of what keeps her bod so taut after popping out two Brady babies.
8. Hilary Duff
When she's not busy parenting son Luca Comrie or pretending she uses Tinder to make more money from her music videos, Hilary Duff likes to keep back with sand, surf and a breezy coverup. Cute!
9. Iggy Azalea
Before her admitted implants, Iggy Azalea rocked a striped swimsuit over her insane curves.
10. Jennifer Lopez
Is it any wonder Jennifer Lopez was named the World's Most Beautiful Woman? Look at her!
11. Kaley Cuoco
No ugly ducklings here for adorable Big Bang Theory starlet Kaley Cuoco. Just swans!
12. Katy Perry
Me-ow! Katy Perry looks sassy indeed in her high-waisted kitten print suit. So cute!
27. Taylor Swift and HAIM
Taylor Swift and her besties HAIM show that nothing's more beautiful than friendship.
Previous
Next
BEGIN