Photo: PRPhotos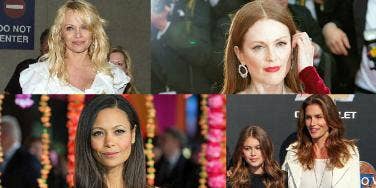 These stars skipped hospitals when they delivered their tykes.
Despite amazing advances in technology, healthcare and medicine, some women prefer to give birth the old-fashioned way: In their own beds or bathtubs in their own homes. This is true even if you're a multi-millionaire who can afford the very best of everything, including meds and doctors. Some celebs prefer birthing at home simply for the privacy it provides (because can you imagine paparazzi or just nosy nurses trying to snap photos of you right after labor?), others think it'll bring them closer to their babies and some just, well, like it better.
These stars all popped out their babies at home and lived to tell about it, which is a lot different than many other home births from back in the day.
1. Demi Moore
Demi Moore gave birth to all three of her daughters, Talullah, Scout and Rumer Willis, at home. Of course, you're much less worried about complications when you're married to John McClane. Seriously, Bruce Willis can handle anything. He defeated terrorists barefoot.
18. Melora Hardin
Melora Hardin, also known as some actress you never realized was on The Office at some point, had her second daughter at home while her older daughter watched. Nothing traumatic about that, guys.
17. Erykah Badu
How adorable is this? Not only did Erykah Badu have all of her children in home births, she's also a doula for her pals, who call her "Erykah Ba-doula." Seriously, she was born for that.
16. Gisele Bundchen
Gisele Bundchen gave birth at home to her son and daughter and says that because she's into yoga, it didn't hurt at all. Of course, Gisele. Of course.
15. Pamela Anderson
The home births of sons Dylan and Brandon are probably the most (and only) natural things about Pamela Anderson.
14. Alanis Morissette
Angry woman scorned turned Earth mother Alanis Morissette advocates home birth, even though she admits hers was "beyond" painful.
13. Nelly Furtado
Nelly Furtado had her daughter, Nevis, at home and describes herself as a "hippie mom."
12. Ricki Lake
Ricki Lake not only gave birth at home, she also made a movie about it that swayed other Hollywood moms to do the same.
11. Evangeline Lilly
Evangeline Lilly had a home birth with midwives. She was in labor for 30 hours, but explains that only five of those hours were actually spent pushing out the baby.
10. Mayim Bialik
Mayim Bialik, an anti-vaccine advocate (healthy!) who breastfed on a filthy New York City subway (nothing against public breastfeeding at all, just breastfeeding somewhere where your child will be subjected to the smell of urine and naked homeless men), explained to TODAY why home birth was her method of choice for her second son.
"Our culture has instilled in us a fear of the natural experience of birth and a fear of our bodies. In countries where women are supported in their desire and ability for a natural birth (Northern Europe leads this charge), babies and mothers have the lowest mortality rates. Natural birth is not for hippies; it's for anyone who wants to work hard at breaking down what they have been told is true about birth, pain, and the human body and spirit," she wrote.
"Home birth is right for people who want to take natural birth to the next level: Let me birth in the place this baby was created. Let me labor on the floors I paced in anticipation, let me labor in the rooms of the house where I mused on sleepless nights what this moment would be like. Let me birth with the smells of the kitchen and the faint giggles of the boy who will be this child's buddy. Let me birth with music playing, with my grandfather's prayer books looking down on me, with my hair flowing, my inhibitions gone, the doors of my home flung wide open as if to say: I am open to this process, World. I was made to birth this baby!"
That translates to: "If you need a doctor to have a baby, I'm better than you." Or maybe just, "I'm clearly a masochist. After all, I'm on The Big Bang Theory."
9. Thandie Newton
Thandie Newton explained that giving birth to all three of her children at home wasn't a huge deal to her, but it was an important decision.
"I had just associated hospital with being ill, and I felt beautiful and healthy and wonderful when I was pregnant, and being at home is the place I felt most relaxed and comfortable," she told TODAY. "So for me, it feels normal, but there was a time when everybody had their babies at home and it wasn't such a big deal."
8. Julianne Moore
Julianne Moore gave birth to her daughter Liv Freundlich at home.
7. Jennifer Connelly
Jennifer Connelly gave birth to her third child, daughter Agnes, in a birthing pool at home. Hubby Paul Bettany was on hand to help her along. (A midwife would probably be more qualified, but much less handsome).
6. Maria Bello
Maria Bello gave birth to her son at home. The labor took 22 hours, and there was a storm raging outside. Brave lady!
5. Cindy Crawford
Cindy Crawford gave birth to both of her kids (including her lookalike, Kaia Gerber, seen here) at home. The supermodel called it her proudest moment. Aw!
4. Maya Rudolph
Saturday Night Live alum Maya Rudolph had a home birth for her second child.
3. Felicity Huffman
Felicity Huffman gave birth to both of her daughters at home with the help of doting husband William H. Macy.
2. Lisa Bonet
Lisa Bonet gave birth to daughter Zoe Kravitz at home with then-husband Lenny Kravitz. She later would do the same with daughter Lola Momoa with husband Jason Momoa by her side. To reiterate, she had babies and married both Lenny Kravitz and Jason Momoa. Can she please give us her secret?
19. Stacy Keibler
Stacy Keibler says that Ricki Lake's homebirth film, The Business Of Being Born, influenced her decision to have daughter Ava at home with husband Jared Pobre.
Previous
Next
BEGIN