Photo: weheartit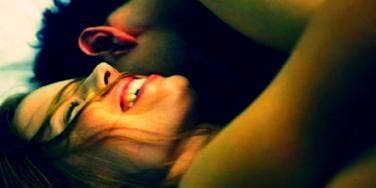 Sex doesn't get worse after marriage ... it gets BETTER!!
So often, people step into marriage with a cloud over their head, assuming that the demise of great sex is certain.
Sometimes, it's not even conscious — we host events like bachelorette/bachelor parties for the "last hoorah." Not even realizing that the connotation behind it is mostly negative, implying "live one last glorious moment now, while you still can."
But, is sex in marriage always terrible? Or is our negative mindset about it the real problem?
Of course, life happens and that honeymoon phase, for better or worse, comes to an abrupt end. Every couple eventually finds themselves caught up in the whirlwind of day-to-day life — then, kids come into the picture, and before you've quite mastered time management, your time together goes down the rabbit hole.
But, challenges aside, sorry — we're just not buying this notion of sex in marriage as being doomed and terrible.
So, we asked our YourTango experts, who work with hundreds of couples every day (married, divorced, and remarried) to find out the truth about how to create a happy and healthy and downright HOT sex life in marriage (and whether that's even possible).
What they revealed blows the "sex in marriage is terrible" stereotype right out of the water (along with quite a few other myths and misconceptions)!!
So, lean in close, because what you're about to hear just might changes the game in your marriage ... for the better! It turns out, letting go of the honeymoon phase is a good idea, because sex in marriage has the potential to, truly, be phenomenal in its own right ... IF you understand what it takes to connect with your partner that way.
Here's what we learned:
1. What Makes Sex In Marriage GREAT?
Think that "frequent sex" or "frequent orgasms" are the secret to a happy, healthy sex life in marriage? Think again.
47% of YourTango experts say "soulful, intimate connection" is the key, with another 44% saying, "prioritizing pleasure for both partners." So skip the "Energizer Bunny" approach to 'getting it on' and slow down. Make it a habit of looking each other in the eye, more often.
It turns out connecting heart to heart first is the best path the most mind blowing orgasms.
2. What's The Secret To Sexual Attraction In Marriage?
What exactly turns your spouse on the MOST? Interestingly enough, it's not those sexy little outfits you wear to bed or even the strip tease you performed.
Nope. Our experts find that 56% of their clients are most sexually attracted to their partner when "they're made to feel appreciated or needed."
So save your money, stop splurging on lacy lingerie and just help your partner do the dishes (or sincerely thank them when your honey does something for you). Trust us, it'll go a long way!
3. How Do You Keep Your Married Sex Life Sultry?
77% of experts recommend that clients "connect emotionally before initiating sex," in order to sustain a sweet, steamy and mutually satisfying sex life and another 76% advocate "each partner asking for what you really want."
That means court each other outside the bedroom and speak up and share what turns you on between the sheets. After all, the most basic lesson we learn in life is: closed mouths don't get fed — apply that to your relationship — it never fails.
4. Which Sex Trends Are Curious Couples Exploring?
The verdict is in ... modern married couples are mixing it up in the bedroom (or at least, want to). Our YourTango experts report that 38% of couples have an interest in exploring an "open relationship/swinging"; 30% get hot and bothered by the idea of "BDSM and bondage"; and 26% want to "read erotica together."
If you're interests align with these couples, don't worry curiosity didn't really kill the cat. So, stop daydreaming and talk to your honey about how to make your fantasies a reality.
5. Can Dominance In A Relationship Ever Be Truly Healthy?
Ugh! Sorry ... it looks like Christian and Ana were 50 Shades of Bullsh*t.
62% of our YourTango experts believe that a relationship cannot thrive when one person has control, power, or dominance over the other partner.
But do keep in mind, as one expert said, that, "Exploring control/dominance themes in the sexual relationship is very different than encountering control and dominance in the relationship outside of sex. The first can enhance a sexual relationship; the latter will most likely be detrimental to it."

So maybe dabble in dominance and submission as bedroom role play, but outside the bedroom — equal power and mutual respect wins.
6. What's Killing Sexual Connection In Marriages MOST?
52% of our YourTango experts feel that "daily overwhelm and stress" is killing chemistry in the bedroom. So, hectic day at the office be damned, show your honey a little TLC each and every day, even if it's just hugging or a small moment of eye contact last a few seconds longer. Those little moments of connection go a long way to keeping the home fires burning hot!
And, in case you're curious, the second runner-up in this category is infidelity with 37% of experts naming it as a culprit to ruining couples' sex lives. So seriously ... find a little time for intimate connection with your partner to your day. It's an easier way to recharge your sex life than adultery.
7. Are Your Kids Ruining Your Relationship?
News flash — your spouse (and their unique needs) do not suddenly become extinct once the two of you procreate. So stop assuming your duties as parents trump your "duties" as a spouse — they're not one in the same and you cannot treat them as such. 41% of our YourTango experts find "making the children a priority over your spouse" one of the most detrimental ways parenting kills sexual happiness in marriage.
However, 0% of experts believe that "lack of privacy" truly hinders sex in marriage (so quit using it as an excuse). So throw that "do not disturb" sign on, light the candles and enjoy a little parents-only romp around.
8. Is Kissing In Front Of The Kids OK?
To kiss or not to kiss in front of the kiddos? What type of affectionate behavior do you think is appropriate to model in front of your children? After all, you're your child's best role model for a happy, healthy relationship, right?
Well, 94% of our YourTango experts believe "hugging, holding hands, quick peck kisses" are beneficial for the kids to see. "Prolonged embraces" are also OK. However, some experts suggested that while any "honest" act of affection can really be appropriate — with anything in life, the key is moderation.
So, maybe pass on the heavy petting and playful ass grabs. No matter how old you are, no child wants to see their parents doing that (it can do serious damage to little psyches). Spare your kids.
9. What Truly Causes Cheating In Modern Marriages?
Simply (and sincerely) saying "thank you" to your spouse can prevent divorces, ladies and gentlemen.
Only 3% of our YourTango experts believe infidelity is mainly caused by "lack of sex." What's the real culprit when spouses stray? 39% of experts believe THE leading cause of infidelity is "feeling unappreciated" in your marriage.
So, let's just let that sink in shall we?
Simply (and sincerely) saying "thank you" to your spouse can prevent divorces, ladies and gentlemen.
10. Can A Marriage Every Truly Thrive Again After Infidelity?
Does an affair mean your marriage is definitely over? 50% of our YourTango experts believe that, not only, can your marriage be salvaged after infidelity, it can transform into an even stronger connection than before.
Experts don't claim that path is easy, but do confidently say it's possible. Personally, we advocate working out your issues before anyone cheats.
11. How Much Sex Is Enough?
So, what's more important in marriage, quantity of sex or quality?
53% of our YourTango experts say that, if forced to choose between the two, couples would prefer "just OK comfort sex anytime they want" versus 47% who said couples would prefer "mind-blowing, multi-orgasmic sex once a month."

Luckily, you don't have to choose so treat your partner right and enjoy the best of both worlds.
12. Are You Keeping Up With The Jonses ... In The Bedroom?
How much (in our social media "curate your reality" culture) does other people's belief that you're a fun, sexy couple with a great sex life contribute to a couple actually having a great sex? We asked our experts that very question and luckily ... it seems we've left our high school days behind us!
While there's still some pressure of being the "cool kids" of marriage. 53% of YourTango experts say that outside perception about your bedroom prowess and sexy couple chemistry "isn't important at all — if anything, the pressure can actually ruin your sex life."
So more than ever, it's most important to, genuinely, be yourselves.
13. How Common Are Sexless Marriages?
OK, this one truly saddens and shocks us. No wonder sex in marriage has such a negative connotation.
Ready? Our YourTango experts say that 20-40% of married couples they work with live in a sexless marriage.

If this applies to you, be sure to read the next slide ...
14. What's The MAIN Cause Of Sexless Marriages?
It turns out, sex itself isn't the problem in sexless marriages.
Instead, an overwhelming 71% of our experts say that "resentment or unresolved conflict between partners" is the major cause of sexual connection fizzling.
Ladies and gentlemen, that's a fixable problem! And while another 41% of experts say "busy, stressful lifestyles" compound the problem ... with some counseling and a willing heart, it is entirely possible to rekindle that intimate spark between you again.
15. What Keeps Sex In Marriage Happy For A Lifetime?
Yes, sex is truly important to sustain a happy, healthy marriage ... but far more goes into a satisfying sex life than just the physical act alone. So, what are the top three experts suggest couples do to maintain passion in your relationship for a lifetime?
38% say: "Prioritize couple alone time"
32% say: "Master connecting in the midst of normal daily chaos"
23% say: "Stay curious about one another"
We say — Do ALL three and you're sure to have a happy, dreamy, steamy sex life from your early courtship through your days in the old folks home. Cheers to making your "happily ever after" a reality!
Previous
Next
BEGIN