Photo: WeHeartIt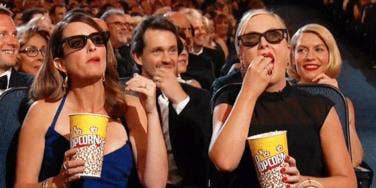 No shy girls here! These saucy ladies tell it like it is.
Don't get us wrong, we're all for great jokes no matter who tells them. But there's nothing quite like watching an empowered woman walk onto a stage, flip caution the bird and spout a hilarious one-liner about sex. It's so cheeky and impressive at the same time!
We've compiled 15 of our absolute favorite funny quotes about sex from famous ladies we love, and trust us, these aren't like your run of the mill love quotes.
These strong, successful women aren't worried about tarnishing their image, embarrassing themselves or offending anyone; they say what they want to say, when they want to say it. Whether or not you agree with them, you've still got to admit they're willingness to not hold anything back is pretty inspiring.
Plus, it's a light and funny way to remind women that our bodies and our sexuality belong to us, and no one can take that away.
So there you have it: in one fell swoop, these sassy, no-holds-barred women will have you laughing AND feeling extra empowered today. What's not to love about that?
Read on to see the unabashedly blunt things they had to say when it comes to sex!
1. Amy Schumer
"It's work having a vagina. Guys don't think that it's work, but it is. You think it shows up like that to the event? It doesn't. Every night it's like getting it ready for its first Quinceanera, believe me."
2. Sarah Silverman
"So I'm licking jelly off my boyfriend and all of a sudden, I'm thinking, 'Oh my God, I'm turning into my mother.'"
3. Tracey Ullman
"As I get older, I just prefer to knit."
4. Mae West
"Good sex is like good bridge. If you don't have a good partner, you'd better have a good hand."
5. Tina Fey
"You could put a blond wig on a hot-water heater and some dude would try to f**k it."
6. Lily Tomlin
"We have reason to believe that man first walked upright to free his hands for masturbation."
7. Dorothy Parker
"If you wear a short enough skirt, the party will come to you."
8. Lisa Lampanelli
"Usually I'm on top to keep the guy from escaping."
9. Nora Ephron
"In my sex fantasy, nobody ever loves me for my mind."
10. Laura Kightlinger
"I have a rule, and that is to never look at somebody's face while we're having sex; because, number one, what if I know the guy?"
11. Joan Rivers
"The only time a woman has a true orgasm is when she's shopping."
12. Betty Friedan
"No woman gets an orgasm from shining the kitchen floor."
13. Suze Orman
"Women fake orgasms and men fake finances."
14. Chelsea Handler
"I think we can all agree that sleeping around is a great way to meet people."
15. Margaret Cho
"My boyfriend and I live together, which means we don't have sex — ever. Now that the milk is free, we've both become lactose intolerant."
Previous
Next
BEGIN