Photo: instagram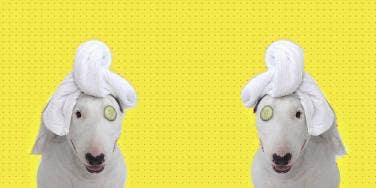 Man's Best Friend knows a little something about style, too!
By Marilyn La Juenesse
Don't feel bad, but these pooches are better dressed than you. It's not an opinion, it's a fact. Someone give these dogs modeling contracts, because their style is on point. Don't believe us? Take a look for yourself.
Photo: @sebastianlovesluna
The Stylish Couple
Who: Sebastian & Luna
Followers: 6,522
Signature Look: Sebastian's style can only be described as preppy-chic, while Luna likes to show off her feminine side with light colors and lots of accessories.
The Minimalist Pooch
Who: Mochi
Followers: 7,014
Signature Look: This stylish pooch always dresses to impress, sporting only the cutest onesies on her outings in the city. Simple but always adorable.
The Casual One
Who: Polo
Followers: 29,882
Signature Look: Keeping his street reputation in check, Polo wears only the best threads, pairing his outfits with over-sized hats for added effect.
The Costume Lover
Who: Marnie
Followers: 1,438,004
Signature Look: Marnie loves dressing up as her favorite characters and celebrating all holidays with the appropriate costume attire.
The Classic Dog
Who: Menswear Dog
Followers: 195,022
Signature Style: Whether it's a business meeting or night on the town, this dog is always ready with his sharp, yet classic, style.
The Comfortable One
Who: Jiff
Followers: 1,298,676
Signature Look: Jiff dresses for comfort, but still pulls off stylish everyday outfits.
The Character Actor
Who: Montjiro
Followers: 12,725
Signature Look: With a large closet, it's hard for Montjiro to choose just one signature style. A new day, a new character.
Photo: @baileybrooklyn_the_pom
The Undecided Pom
Who: Bailey
Followers: 7,178
Signature Look: A newbie to the Instagram scene, Bailey is just discovering her style. Athletic, girly, a little of both? We're sure she will decide soon!
The Eccentric Pup
Who: Isadora
Followers: 10,561
Signature Look: Unafraid of showing her true colors, this stylish pooch often wears vibrant colors, keeping the attention focused on her at all times.
The Adventure Styler
Who: Kintai
Followers: 8,613
Signature Look: Always ready for an adventure, Kintai makes sure his outfits are multi-use, so he can go from relaxing to hiking as quickly as possible.
Previous
Next
BEGIN