Photo: Universal Pictures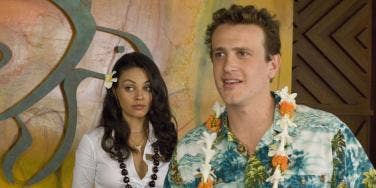 Seriously, even YOU'LL like these.
Let's be honest: Hollywood doesn't think too highly of us. Movies are mostly cookie cutter products made to clearly appeal to one demographic over another. Genre movies tend to only appeal to one type of person, whether we like to admit it or not. If you like action movies, then you're probably not going to like romantic comedies. That's not because of who you are, but because Hollywood doesn't think we can handle movies that don't neatly fit into certain categories. This terrifies studios, because then they don't know how to sell or market it, which means they're not sure if they'll make enough money on it, and that's really all that matters to them.
This concept is unfair, but the concept is especially unfair to romantic comedies. When you think about it, the concept is actually pretty broad. Rom-coms are just movies that include romance and laughs. As long as they have those two things, they fit into the genre.
Rom-coms seem to be pretty divisive. They're a great pick for a date night, so even people that don't like them still have to see them fairly regularly. That's why I made this list. These are rom-coms for people that hate rom-coms!
Photo: Universal Pictures
1. The 40 Year Old Virgin
The movie that launched Steve Carell's career, The 40-Year-Old Virgin combines raunchy comedy with genuine heart. If you're looking to avoid sappiness, just remember that there's a scene in this movie where Carell actually gets his chest waxed.
2. Van Wilder
Even though this movie should have been terrible, Van Wilder has just enough charm to work. Basically, Ryan Reynolds plays a guy who never wants to graduate college until he meets Tara Reid. She inspires him to start a business and eventually graduate. Which is weird, because meeting Tara Reid in real life will only inspire you to walk away from Tara Reid.
Photo: Deedle-Dee Productions
3. The Office (seasons 1-3)
Ignore the last couple of seasons and pretend that The Office ended with season 3. It's the perfect ending. Jim and Pam were adorable, but once they became a couple, they turned into really smug jerks.
4. Shaun Of The Dead
Combine rom-coms with zombie movies and you have Shaun Of The Dead. This movie is more than a parody, because it works as both send-up of zombie movies and a legitimate zombie movie. If anyone asks, just say you're watching it because you love horror movies, not because you believe in love.
Photo: Universal Pictures
5. American Pie
Even though this movie isn't really all that romantic, I'd still count American Pie as a rom-com. It's about four high school kids looking for love. Sure, it's only the physical type of love, but it's still love, ok?
Photo: Universal Pictures
6. Forgetting Sarah Marshall
Even though this movie is about a professional musician who goes to Hawaii on whim and ends up hanging out with a rockstar, Forgetting Sarah Marshall is a pretty honest depiction of how it feels to be dumped.
7. Wedding Crashers
Ever wonder why Hollywood keeps letting Vince Vaughn and Owen Wilson make movies, even though they're clearly just going through the motions? It's because they made Wedding Crashers. It's good enough to allow for a decade of laziness from the two lead actors after the fact.
8. Groundhog Day
In Groundhog Day, Bill Murray relives the same day over and over again until he finds a way to break the spell. I don't want to spoil it in case you haven't seen it, but just remember what list it's on.
Photo: Universal Pictures
9. Back To The Future
Romantic movies don't always have to be about the main character finding love. In Back to the Future, Michael J. Fox travels to the past and prevents his dad from meeting his mom. He has to spend the rest of the movie trying to set his parents up together. It's awkward and romantic at the same time!
10. The Wedding Singer
There's a reason why everyone is so disappointed in Adam Sandler's current movies. You can't get away with stuff like Blended and Jack And Jill when you used to make movies like The Wedding Singer. That's like a chef quitting a five star restaurant to go clean bathrooms at a McDonald's.
Previous
Next
BEGIN