Photo: CBS Television Studios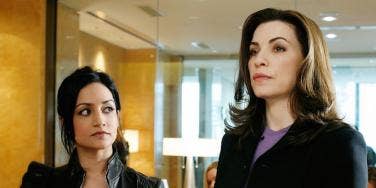 These celebs hated each other for totally ridiculous reasons.
We all know that not everyone is going to get along. Professional rivalries are common, but they often remain civil because people are still at work and need to behave themselves. Even though Evan keeps eating your lunch, you can't just blast him on Twitter. You have to let HR handle that.
Celebrities don't have that issue, however. When they don't like somebody, they can just tell everybody. Whether it's somebody they work with, or just someone in the same business as them, it doesn't matter. Being a celebrity is a ridiculous job, which means that celebs can get away with acting ridiculous.
Usually, though, these feuds don't amount to much. Every once in a while, however, two famous people don't get along in away that's either so hate filled or just random that it's super entertaining. Whether it's because of how they handle it, or just based on the actual people involved, here are the most ridiculous celebrity feuds!
1. Lucy Liu vs. Bill Murray
If you've ever wondered why Bill Murray didn't return for the Charlie's Angels sequel, it was because he didn't get along with Lucy Liu. Also, because he's Bill Murray and he has options and he can probably afford to turn down obvious turds like Charlie's Angels: Full Throttle.
Photo: The Weinstein Company
2. Tom Hardy vs. Shia LaBeouf
Apparently, during the filming of Lawless, Tom Hardy and Shia LeBeouf couldn't stand eachother. Hardy claims that LaBeouf actually knocked him out at one point. Hey Tom Hardy, don't admit that, okay? It's the most embarrassing thing I've ever heard.
Photo: Scott Free Productions
3. Julianna Margulies vs. Archie Panjabi
Despite playing badass fan favorite character Kalinda Sharma, Archie Panjabi had to leave The Good Wife at the end of season six. The reason was because she and main star Julianna Margulies couldn't even be in the same room. When their characters were in the same scene, they had to be filmed at different times and then cut together in editing.
Photo: Walt Disney Pictures and Universal Television
4. Gwyneth Paltrow vs. Martha Stewart
In all honesty, I have no idea who likes Gwyneth Paltrow's advice newsletter. She writes crazy things from a clearly super rich person perspective that I can't imagine anyone actually gets help from it. Martha Stewart apparently agrees with me, because she's publicly trashed Paltrow and Goop. Paltrow tried to retaliate, but, well, people actually hate jailbird Stewart less than they hate pretentiousness.
5. Dustin Diamond vs. the cast of Saved By the Bell
When Screech was getting picked on in Saved By The Bell, it apparently wasn't an act. Dustin reportedly didn't get along with any of the cast mates, and even wrote a tell all book about everyone's dirty secrets. The rest of the cast got him back by not inviting him to any of the Saved By The Bell reunions.
Photo: Fremantle Media North America
6. Nicki Minaj vs. Mariah Carey
The judges on American Idol are supposed to throw harsh criticisms at the contestants, not each other. No one told Mariah Carey and Nicki Minaj, however, because the two just did not get along. Rumors of screaming matches persisted throughout their time on the show, which was just one season. They didn't get along so much that they both ended up leaving. Carey later claimed that producers played up the rivalry. What?! You mean reality TV isn't totally real!?
Photo: Spelling Television
7. Alyssa Milano vs. Shannen Doherty
Charmed was like Buffy The Vampire Slayer for your mom. It wasn't a bad show, but it's also kind of embarrassing if you like it. It was also pretty successful, so you'd at least have company. Shannon Doherty was a main character on the first few seasons, but left suddenly halfway through the show's run. She made it pretty clear that it was due to conflict with costar Alyssa Milano.
8. Iggy Azaela vs. Snoop Dogg
Snoop Dogg loves to post mean memes about Iggy Azalea. Then she'll call him out on it, ask him why he's always nice to her in person, to which he responds by posting a meme comparing her to a melted candle or something.
9. Miley Cyrus vs. Sinead O'Connor
Sinead O'Connor got into a weird Twitter beef with Miley Cyrus. O'Connor had some strong criticisms over Miley's career choices, but she really just ended up coming across as crazy. That's a huge accomplishment, looking crazy compared to Miley Cyrus.
Photo: The Stuffed Dog Company
10. Will Smith vs. Janet Hubert-Whitten
Will Smith seems like a pretty nice guy, but apparently Janet Hubert-Whitten doesn't think so. Hubert didn't agree with the way that Smith behaved on set, and forgot that since he was the star of the show, he wasn't the one who would get fired. Whoops!
Previous
Next
BEGIN