Photo: Instagram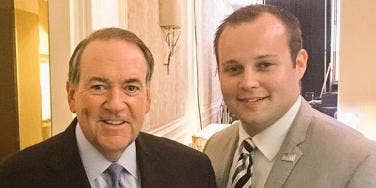 Keep this in mind when elections roll around.
Josh Duggar of 19 Kids And Counting made waves when it was revealed that he molested five minors, including four of his own sisters, when he was 15 years old. As previously discussed, there's a whole lot of f*cked up about the entire situation, from his BS apology to the fact that his parents, Jim Bob and Michelle Duggar, basically sent him to remodel a house instead of to therapy. (Also, the very "therapy" that they did provide involves a whole lot of victim blaming.)
Essentially, there's nothing defensible about what Josh Duggar, who just resigned from the anti-gay hate group Family Research Council, did, nor about how his family handled it. Seriously, can you imagine having to share a roof with your rapist? Imagine that four times over, along with being told that it was probably your fault for being too tempting. Sounds healthy, right?
That said, there are still some creeps who absolutely adore Josh Duggar, and not all of them are members of his ever-expanding brood. In fact, a lot of them are running for office in 2016. We're not saying they endorse his incestuous activities (chances are none of them had a clue), but they don't mind taking money from the family that allows this sort of thing to happen. Keep this in mind when you go to your local polling place.
1. Mike Huckabee
Mike Huckabee took to Facebook to openly defend Josh Duggar when the news of his child molestation scandal broke, writing, "Janet and I want to affirm our support for the Duggar family. Josh's actions when he was an underage teen are as he described them himself, 'inexcusable,' but that doesn't mean 'unforgivable.' He and his family dealt with it and were honest and open about it with the victims and the authorities. No purpose whatsoever is served by those who are now trying to discredit Josh or his family by sensationalizing the story." The Duggars have long campaigned for Huckabee (and donated to his campaigns), and reports suggest that the judge who destroyed the records of Josh's child molestation case may have ties to the former Fox News host and presidential hopeful.
3. Jeb Bush
In Jeb Bush's defense, he looks like he'd rather be somewhere (anywhere) else.
5. Ted Cruz
Christ, Ted Cruz already looks like something out of a Guillermo Del Toro movie, and now he just got even creepier.
6. Rick Santorum
Josh Duggar previously campaigned for Rick Santorum.
7. Sarah and Bristol Palin
Because the only family that comes close to the Duggars in terms of healthy family values, healthy relationships and healthy IQs are the Palins.
8. Scott Walker
Scott Walker doesn't believe in evolution, which shouldn't surprise anyone, because he pals around with a family that's endangering our species.
9. Rand Paul
C'mon, Rand. Don't make us take back all the good will that your Patriot Act filibuster earned you.
10. Tamra Judge
Tamra Judge is a Real Housewife that I had to Google for this because other than NeNe Leakes, none of them matter. The fact that she's maybe kinda sorta defending Josh Duggar is probably just for the publicity it'd garner her, and well, it worked. Congrats, I guess.
11. TLC as a Whole
TLC learned about the Duggar child molestation scandal back in 2006 and didn't do anything about it. Chances are they only yanked it from airwaves because now their advertisers know about it, too.
Previous
Next
BEGIN