Photo: YouTube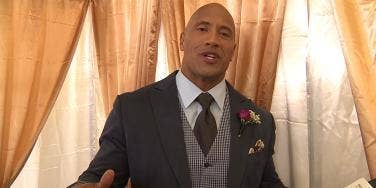 Because normal ministers just aren't cool enough.
Did you know that for your wedding, you can basically do whatever you want? You'd assume that there's a certain code of conduct, but basically, in order to be legally married, you just have to fill out some forms and have a registered minister and witness. Where you sign those forms and what you wear while signing them is entirely up to you.
Everyone wants to have the most memorable wedding. Well, not everyone, but at least one person in every wedding does. Basically, whether you want to be or not, if you're getting married, you're in a competition with all of your friends' weddings. You have to find some way to up to ante on your wedding or it's going to look lame.
Well, if you're friends with certain celebrities, then you've got the easiest way to win. You can have a famous person officiate your wedding. Bam, you just won! You had a celebrity at your party, and they weren't even the center of attention. Now, you can look all of your dumb friends in the face and be like, "Take that, losers!"
For example, this guy, who got his bestie, Dwayne "The Rock" Johnson to officiate his wedding:
Seriously though, The Rock is the f*cking best. (My girlfriend, who met him when she was in fifth grade, agrees: She says he's super nice and smelled really good.)
Johnson isn't alone in his minister role. Here are 10 celebrities that have officiated a wedding!
Photo: Paramount Pictures
1. Benedict Cumberbatch
Benedict Cumberbatch officiated the wedding of two of his friends in Ibiza. Also, he noticed a bunch of tiny, unimportant details and used them to piece together some local unsolved crimes.
2. Kevin Smith
For $5,000, you can have Kevin Smith officiate your wedding! He once married two fans in a hockey themed gay wedding.
3. Kesha
Kesha officiated for two of her best friends. Unfortunately, when she signed the marriage certificate, she apparently used the '$' instead of an 's.' Who knows if that's even legal?!
4. Jonah Hill
Jonah Hill officiated the wedding for Maroon 5 singer, Adam Levine. Levine wore a shirt during the ceremony, to everyone's disappointment. Hill also wore a shirt, which made everyone happy. It was an emotion filled day.
Photo: Universal Pictures
5. Jason Segel
When one couple's officiant canceled on them at the last minute, it ended up being the best thing to ever happen. They were able to get Jason Segel to step in, and the ceremony ended up occurring during a taping of The Tonight Show back in 2010.
Photo: Warner Bros Television
6. Ian Somerhalder
Ian Somerhalder officiated a wedding for his assistant back in 2012. Instead of exchanging vows, the couple just asked Somerhalder questions about the show Lost.
7. Emma Stone
While filming Zombieland, Emma Stone introduced her publicist to the film's director. The two hit it off and got married, and Stone was there to make it official.
8. Sir Ian McKellen
Even during his wedding, Patrick Stewart still found a way to make things about him and his adorable friendship with Ian McKellen. McKellen got ordained specifically for this wedding. Stewart's wife, Sunny Ozell, says that everyone, including the cutest pals ever, got choked up.
9. Conan O'Brien
During the one year anniversary of his new show, Conan O'Brien officiated the wedding of the show's costume designer and his partner. It was nice moment, but everyone was nervous that Jay Leno was going to show up and perform the wedding instead.
10. Dwayne "The Rock" Johnson
Dwayne Johnson, better known as The Rock, surprised one of his friends by officiating a surprise wedding for him. Both The Rock and the wedding were surprises, which makes it probably the best prank ever pulled.
Previous
Next
BEGIN