Photo: Image: PR Photos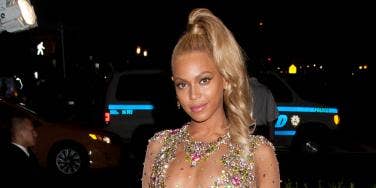 Want to see Beyonce, Madonna, J. Lo, and more... before they were glamorous stars?
Celebs lead insanely glamorous lives. A-listers like Beyonce, Madonna, and Jennifer Lopez are usually dripping in jewels, cloaked in couture, and employ armies of stylists and glam squads to make sure they look their very best every time they step onto a red carpet — in sky high stilettos, of course. But that's today and in the here and now. Would you believe that they weren't always quite so glam? True story.
We did a little digging and located photos of some of the sexiest, most beautiful ladies in the celeb universe way, way, way back when. Before they had extensions. Before they had work done on the teeth. Before they had designers fighting over who would be able to dress them for big events. Before they were household names dominating multiple fields in the entertainment world.
Want to see Julia Roberts with glasses? Or the aforementioned Jenny From the Block with pigtails that rival lassos that Wonder Woman might want to borrow? How about Kate Winslet as a fresh-faced teen? Strap yourself in since you are going to be somewhat surprised at how they used to look in their geeky school photos.
Let's see some of the hottest celebs then and now! Talk about transformations.
Photo: Image: Wikimedia Commons
1. Madonna
It's so obvious that this little love is Madonna. Her Madgesty rocked the gap tooth way back when. She was born brunette, even though her Blonde Ambition defined her career.
Madonna
Facially, Madonna, inarguably one of the most famous women in the world, looks the same ... just more diva-like. And more famous. And more experienced. And wealthier. And more sarcastic. And more amazing! (And, obvs, more blonde.)
Photo: Image: Wikimedia Commons
2. Kate Winslet
The celebrated English actress Kate Winslet had gorgeous porcelain skin and a lovely, youthful visage back in the day, yo! Check her out as a kid, with no makeup. Lovely!
Kate Winslet
Kate Winslet remains a stunning English rose to this day. Some people are just blessed with killer DNA.
Photo: Image: Wikimedia Commons
3. Beyonce
Those cheeks! Our girl Beyonce as a baby was too cute! She had earrings early, because of course she did. She is Beyonce and the queen always accessorizes, even as a toddler. Baby Blue Ivy totally looks like her mama as a tot.
Beyonce
The Queen Bey has evolved into quite a fierce glamazon. She didn't just wake up like this. She was clearly born like this.
4. Kate Moss
This is Kate Moss. No, we're not lying. She was a fresh and freckle-faced kid before those cheekbones were seen on every magazine cover and every runway in fashion circles. This was her ugly ducking phase. Don't grimace at us for saying that — remember how she turned out.
Kate Moss
Kate the Great is a stunner. An unforgettable stunner. She looks totally different. From schoolgirl to supermodel is some transition!
Photo: Image: Wikimedia Commons
5. Jennifer Lopez
What is on this little girl's head? Handles? Jennifer Lopez was Jenny From the Block, rocking some serious pigtails that rival lassos. It's doubtful we'll ever see the supreme diva rock this look again, and that's not necessarily a bad thing. We bet even she has a chuckle over this stiff 'do.
Jennifer Lopez
Today, J. Lo is a multi-hyphenate glamazon who eats diamonds for breakfast. She always glows, from head to toe. But she never denies that Jenny From the Block is who she truly is.
Photo: Image: Wikimedia Commons
6. Julia Roberts
Yes, this is Julia Roberts as a little girl ... who grew up to be quite a "Pretty Woman." Even with granny glasses and buck teeth, she was totally adorbs. She has always been defined by that smile.
Julia Roberts
The actress is still celebrated for that same toothy grin and ear-to-ear smile. Love her, mean it. Still amazing after all these years.
Photo: Image: Wikimedia Commons
7. Sarah Jessica Parker
SJP wasn't quite the style influencing clotheshorse back in the day! But she still had those baby blues, which give off an air of wide-eyed wonder, and that wild mane of hair.
Sarah Jessica Parker
Sarah Jessica Parker is universally regarded as a style icon, thanks to her role as the iconic Carrie Bradshaw in Sex and the City. Who knew that cute little girl would be such a tastemaker?
Photo: Image: Wikimedia Commons
8. Cindy Crawford
Before she became one of the most famous supermodels in the world in the '90s, thanks to her signature mole, Cindy Crawford was just another cute kid with some seriously severe bangs.
Cindy Crawford
The supermodel ditched those bangs, but she still has youthful appeal. And heaps of beauty.
Previous
Next
BEGIN