Photo: weheartit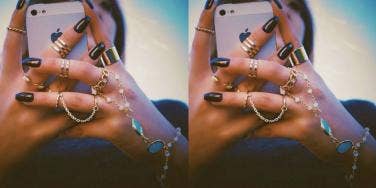 A Taurus wouldn't be caught DEAD in pink.
Shout out to all the Zodiac lovers…this one's for you.
We're big on personality around here and we feel your style should represent exactly who you are. With that said, nail game is just as important as the shoes you wear these days, so how can you show who you are on the inside with a little polish?
By having the perfect color, that's how.
So we decided, what better way to show your personality than to match your nail color to your zodiac sign? I mean, let's be serious, how much easier would it be to know if you were compatible with someone by simply looking at their nails? (Just kidding…maybe. It obviously shouldn't be based on something so simple and silly, but we all probably wish it could be.)
So, what would your color be in a world so reasonable and easy? Let's find out.
Aries: Red
With a sign of high energy, passion and enthusiasm, there's no question red is the perfect color for an Aries. Dior, unintentionally but oh so accurately, gave us Pandore for all the exuberant, fiery spirits out there.
Dior, $27
Pisces: Pink
For all you soft spoken, cheery chaps, Essie's Splash of Grenadine gives just enough sweetness to play on a piscean mood. It's chic, tasteful and on-point for you delicate little flowers.
Essie, $8.50
Aquarius: Plum
Mystery and nobility is what the Aquarius person is all about, and it's of no coincidence that purple is the color of royalty. Mr. Ford, whether he knows it or not, made this plum shade for those creative souls of the higher society. (Yeah, we non-Aquarius peeps are super jeal.)
Tom Ford, $32
Capricorn: Violet
For the Capricorns, you're fans of stark colors such as black, white or violets and blues that showcase your determination and loyalty. This purple Chanel hue is an amalgam of all your traits in one striking color.
Chanel, $27
Sagittarius: Indigo
Formula X has got us feeling blue…but in a good way. And they've got the Sags going crazy. These spitfires love a rich hue of blue and we're quite certain this polish is just what they need.
Formula X, $10.50
Scorpio: Emerald
Into mystery and magic? Well, all the Scorpios are, and they love a vivid color to match. Add a small pattern or design to this emerald green color by Ciaté and we'd say you've nailed it. Literally.
Ciate, $8
Libra: Shamrock
Libras love symmetry and harmony in their lives. They also love a balanced, yet chic color story. So, what better then a shamrock green with a small touch of sparkle to dazzle up your day? Nada.
Zoya, $9
Virgo: Lime
Oh, you Virgos. How we love you, you precise little buggers. According to the color spectrum, we know greens are right down your alley and while we can't speak for all of ya, we know those bolder Virgos will get on board with this butter London lime.
Hell, we sure are.
Butter London, $15
Leo: Lemon
The royal sign of the zodiac is the Leo and it's ruled by the sun. Hence, a shade of yellow is just what these peeps need in their lives. If it stands for all that is glorious, optimistic and bright, then you've got it right…and this Jin Soon polish couldn't be more spot on.
Jin Soon, $18
Cancer: Dandelion
Cancerians are all about success and a positive frame of mind, and what screams happiness more than dandelion yellow? Not much, so get it while it's hot you benevolent angels.
OPI, $9
Gemini: Tangerine
The Geminis are definitely intrigued by a bright color, and we can't find a brighter orange then this OCC nail lacquer. With creative flare and innovative minds, standing out is just what Geminis do, and their nail color should be no exception.
OCC: $10
Taurus: Blood Orange
Earthier tones? Yeah, they're just what a Taurean yearns for. Their sensible and practical mindsets are triggered by deeper colors and this blood orange does just that.
Brace yourselves, Nars, we sense a stampede of introverts coming out of their shells for this color any day now.
NARS: $20
Previous
Next
BEGIN