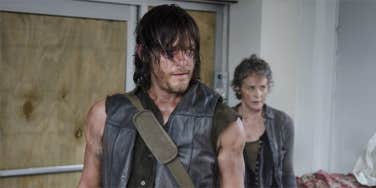 They never even got the chance to meet.
For one moment forget all the couples you've been shipping over the years and imagine that they aren't limited to just the people on their own show. Don't you think that the perfect person for them might come from a different world? There are thousands of people that we could pair together that would make a great couple and would maybe last forever (without all the drama), but unfortunately they never got the chance to meet. It's kind of fun to think about, right? What if Rachel Green had the option of a guy who wasn't Ross? How about if Daryl Dixon wasn't caught in the apocalypse? He could probably find a great woman.
So for the sake of this article forget the plot situations, forget their locations and imagine if these people met and fell in love. We took people from all over the universe and paired them up because we think that their relationships might actually last longer then the ones they are in or were in on TV for those who may not be around any more. By the way, we never realized just how many fictional TV characters were out there in the world until we started making this list, but it's fun. Who would you pair up?
1. Charlotte York from 'Sex and The City'
Charlotte York wanted to find the perfect man in New York who was romantic and wanted to get married and have children. She was an art curator and very cultured, therefore we found her a perfect match…
2. Ted Mosby from 'How I Met Your Mother'
Ted Mosby was also a romantic who just wanted to find the perfect woman and settle down. He was into wine, art, poetry. Though they finally found their respective people, what if Charlotte and Ted Mosby had found each other early in life?
3. Kalinda Sharma from 'The Good Wife'
Even though she recently left the show, Kalinda Sharma was a total badass. She was mysterious and private about her life and was always one step ahead of everyone. She wouldn't need a guy who was all about her, but she needs someone who is her equal…
4. Daryl Dixon from 'The Walking Dead'
We decided to put Daryl with Kalinda because he needs someone who can hold their own and who doesn't get too attached to him, but understands when she needs to be there. Plus, they could take people out together.
5. Rachel Green from 'Friends'
That last episode all we wanted was for Rachel to get off the plane and go back to Ross, but to be honest, Ross was always pretty annoying and not a great boyfriend, so we've decided to pair her up with…
6. Derek Shepherd from 'Grey's Anatomy'
Rachel always wanted a hot doctor. Rachel Green was meant to date a hot doctor and there is no other doctor like McDreamy. If he was still alive of course. Imagine that death never happened.
7. Olivia Pope from 'Scandal'
Olivia Pope gets sh*t done. She basically only needs a hot, smart man who she can come home and have sex with because everything else is handled. Sorry Fitz fans, she is not right for him, so…
8. Don Draper from 'Mad Men'
Could you imagine if Olivia Pope and Don Draper hooked up? They would literally run the world. Not to mention they would be the hottest couple to ever happen.
9. Gina Linetti from 'Brooklyn Nine-Nine'
You gotta love Gina for her lazy work ethic and her amazing dance skills. She can be really smart when she tries and she understands how to work people which is why we paired her with…
10. Tom Haverford from 'Parks and Recreation'
Okay, so pretty much between the two of them no work would get done, ever, but essentially when it comes to office personalities they are the same. They would have so much swagger together.
11. Nolan Ross from 'Revenge'
Nolan is bisexual, but we always loved when he was with a guy. Like when he dated Victoria's son they were pretty adorable. Nolan is super smart and resourceful and can use tech to pretty much do anything he wants. Therefore…
12. Connor Walsh from 'How To Get Away With Murder'
We paired Nolan and Connor together. Not only would they make a hot couple, but there are definitely times when they could help each other out on cases. Plus Connor is super attractive and has some problems, which is something that Nolan would totally go for.
13. Jessica Day from 'New Girl'
Jessica Day is goofy and fun. She loves her job, but often acts like a kid herself and goofs around. What she needs is someone who is an adult when it comes to work, but a total child when they aren't working…
14. Jake Peralta from 'Brooklyn Nine-Nine'
Yes, Peralta is never serious, but somehow he is the best detective on the Brooklyn force, so while he is good at what he does, he also never takes things too seriously. Plus, we imagine that Jess and Jake would goof off with fun code names and just be pretty weird together.
15. Alex Dunphy from 'Modern Family'
She's nerdy and shy and way smarter than the rest of her family. She needs someone who is like her…
16. George Michael Bluth from 'Arrested Development'
Besides the whole crush-on-his-cousin situation, George Michael might be the only person on the show who is intelligent. Also shy, if George Michael and Alex Dunphy met in college, they would totally be great together.
17. Annalise Keating from 'How To Get Away With Murder'
So Annalise is a tough person who needs someone who is as smart as she is and she would need a bit of a challenge. Someone who is equally as tough and maybe someone that she could help get away with murder…
18. Raymond 'Red' Reddington from 'The Blacklist'
What better murderer to help than Red? Now maybe they don't look like they belong together, but they wouldn't even need the FBI task force to take out criminals because Red and Annalise would be the dream team. They are always one step ahead of everyone and very, very smart.
19. Emily Thorne from 'Revenge'
Let's be honest here: no one was shipping Emily and Jack Porter. There was no one left for Emily to end up with at the end of the series and so they just paired them up even though they are totally wrong for each other, which is why we found her perfect match…
20. Jax Teller from 'Sons of Anarchy'
Listen, the most important thing to Jax was his Sons of Anarchy family. Anyone that messed with his family he got revenge on. All we're saying is that they are both badasses and will take any one out that tries to attack them. Together, they would rule the Hamptons, and the motorcycle gang world. Have an open mind, their children would be super hot.
Previous
Next
BEGIN