Photo: Vevo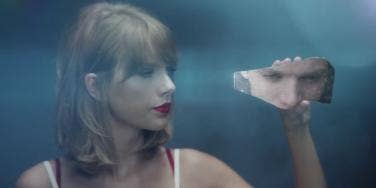 Hell hath no fury like these stars scorned.
Breakups are hard. Even when it's the right thing to do, there are a ton of negative emotions involved. No matter what happened, each person is going to feel some anger towards the other person. Whether it's justified or not, that anger's probably going to be there. Most people recognize this, and after a breakup they realize the best thing to do is give the other person some space and just move on.
Those people are boring though. When famous people break up, for example, we all want to know why. It's the worst when people break up and then they both just say nice things about the other person. We want blood! Tell us something interesting! What caused the breakup? Was it something scandalous or sexy? If not, can you just tell us something embarrassing about the other person?
So, even though they come across as awful people, vindictive celebrity exes are super entertaining. We get the gossip that we crave without having to see someone we actually know deal with the embarrassment of having their secrets go public. That's why we love/hate these 10 famous vindictive exes!
1. Taylor Swift
I mean, basically her whole career is based on throwing shade at her exes. Seriously, pick a song of hers, any song. It's either going to be about her current age (weird) or an anthem about how her ex-boyfriend ruined sunshine for her.
2. Rob Kardashian
When Rita Ora dumped Rob Kardashian, he went on an epic Twitter rant, claiming she cheated on him with more than 20 dudes and dubbing her "Rita Whora." Coming from a guy who slut-shames the very sisters who keep him almost relevant, it probably could have been a lot worse. (Ora responded by denying they were ever even exclusive, so she wins, because he's clearly a psychopath.)
3. Selena Gomez
Young love can be so cruel. So can Selena Gomez, apparently. When she appeared on The Late Show, she bragged to host David Letterman about how she made Justin Bieber cry, then got back together with him a bunch of times after that. That's going to be awkward in a few years when they're both not famous anymore and they both end up working at the same McDonald's.
Photo: Warner Brothers Television
4. Sophia Bush
On Watch What Happens Live, a fan asked Sophia Bush about her ex, Chad Michael Murray. She responded by saying that if she has nothing nice to say, then she just won't say anything. Then she kept talking, because she didn't really understand what that saying meant.
5. John Mayer
For some reason, John Mayer keeps convincing beautiful women to keep sleeping with him. He dated Jessica Simpson for a bit, and then gave out explicit details about their sex life in an interview for Playboy. He didn't say anything mean, but he was super creepy and dirty and we're pretty sure Simpson doesn't want those details out there.
Photo: Warner Brothers Pictures
6. Sean Penn
Sean Penn once tied Madonna to a chair and tortured her for hours. He's an actual criminal on top of being a total creep with a really tragic face. Later on in life, after he divorced Robin Wright, maybe he should have just kept his mouth shut. Instead, he whined about how even though he'd been married, he still didn't know what it was like to feel loved. Hey, maybe that's because you're a genuine monster.
Photo: FreeMantleMedia Enterprises
7. Nick Cannon
During Christmas 2014, a video of Mariah Carey surfaced featuring her isolated vocal track during a live performance. It was a little embarrassing because the song was televised, and Mariah clearly missed a few of the high notes. She didn't get a chance to warm up because she was stuck in a custody hearing that her ex Nick Cannon purposely scheduled on the same day. It's okay, though: Mimi got him back good with the lyrics to her new single, "Infinity," letting the world know he's a broke jackass.
8. Linda Hogan
Remember Hogan Knows Best? It made the Hogan family look like a bunch of silly gooses. Turns out, they're all kind of monsters. After divorcing the Hulkster, ex-wife Linda wrote a tell all book about the marriage, then dated her son's best friend. She also revealed to the world that Hulk Hogan is bald under that bandana he's always wearing!
9. Justin Timberlake
Back in the early '00s, Justin Timberlake and Britney Spears were a real power couple. When they broke up, both kept quiet about the details. That was, until Timberlake released "Cry Me A River." The song was a pretty harsh break up anthem, and Timberlake cast an actress that looked exactly like Britney in the video.
10. Nick Loeb
Sofia Vergara's ex-fiance is being super skeevy in their split. The couple had frozen some embryos, but when the wedding was called off, he tried to claim ownership of the would-be babies. She's been caught in a very public battle over her frozen eggs for the last few months, which came to a head when Loeb went on a press tour about the situation the same week her movie, Hot Pursuit, hit theaters. Seriously, what a douche. Can Joe Manganiello beat him up already?
Previous
Next
BEGIN