Photo: Paramount Pictures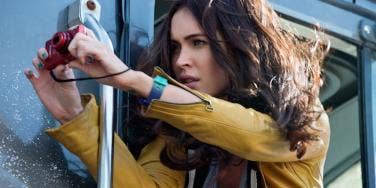 These stars all covered up their nips and tucks.
Not to be a jerk, but I think cosmetic surgery is dumb. I'm not talking about someone that gets into an accident or has a medical emergency and needs to get plastic surgery to remove scars or fix damaged tissue. I'm talking about people who are like, "My lips aren't as big as I'd like them to be, I'm going to pump them full of goo!"
Look, it's your face, do whatever you want with it. If your nose isn't perfect looking, or you want to take some skin from your butt to make your shin look better, I'm not going to stop you. I'm definitely going to judge you, though. Why? Because it pretty much just never looks right. There's always something slightly off about the results.
That's why I don't understand why people lie about getting plastic surgery. You can't hide it. People's noses don't just naturally become smaller, and their lips don't inflate unless they got stung by a bee or something, and that fades. Lying about plastic surgery is like lying about what color shirt you're currently wearing. We can all see that it's blue, so stop saying that it's red. Here are 10 celebs that got caught lying about plastic surgery ... and we didn't buy it for a second.
Photo: True Entertainment
Photo: Bunim Murray Productions
2. Kylie Jenner
For a little bit, Kylie Jenner was trying to act like her lips suddenly just got bigger all on their own. Then, during an episode of Keeping Up With The Kardashians, one of her sisters mentioned that she had gotten lip injections. Phew, I was worried she ate some shell fish or something she was allergic to, because lips aren't supposed to act that way.
Photo: Done and Done Productions
3. Audrina Patridge
Audrina Patridge is a reality TV star that people kind of remember. She initially denied getting breast augmentation, but then finally admitted to it because it's super obvious.
Photo: Warner Brothers Pictures
4. Blake Lively
We can all see that Blake Lively got a nose job. She thinks that if she doesn't admit to it, then we won't know that she got one. No, we can see your face, we know what happened.
Photo: Paramount Pictures
5. Megan Fox
Megan Fox tried to prove that she didn't get any plastic surgery by posting pictures while furrowing her brow, pointing out the wrinkles. She claimed you can't do that when you get Botox. First, Botox isn't permanent. Second, what happened to the rest of her nose?
6. Renee Zellwegger
When Renee Zellweger showed off her new face on the red carpet last year, everyone was like "Why did you do that?" She claims her face just looks different because she got older, but really? Apparently, she aged from a normal person into a poorly molded piece of plastic.
7. Kim Kardashian
Kim Kardashian says that she's never had plastic surgery, aside from some Botox. Well, that's what her voice says. Her face says, "Nothing about me is natural anymore."
8. Barry Manilow
After denying getting any work done, Barry Manilow finally admitted to getting a face lift. This was after photos were released of him leaving the clinic. Also, everyone could see his face.
9. Nicki Minaj
Nicki Minaj denies getting any plastic surgery on her face, claiming that she just uses make up techniques to achieve the desired look. While that could be true, she also won't comment on whether she got implants on her butt or boobs. Because you can't use make up to make those look bigger.
Photo: CBS Television Studios
10. Ashlee Simpson
Ashlee Simpson once said she would never get plastic surgery. Apparently, she has one of those noses that gets smaller as you get older. Weird, huh?
Previous
Next
BEGIN