Photo: weheartit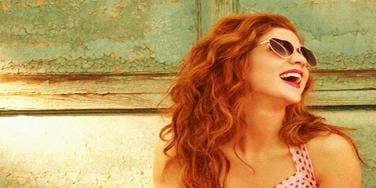 Tanktops? Shorts? Tube tops? Ditch them all for a muumuu!
Summer is just around the corner and we are all gearing up for days spent at the beach, on the outdoor patio, or for some fun in the sun. What better way to take advantage of this beautiful weather than wearing a piece of clothing you will absolutely love — a muumuu!
Yes, muumuus are making a serious comeback. Not only do they cover up the parts of your body you're self-conscious about, but you can incorporate them into any experience — a bonfire, date night, or even a sunny day in the city — and give yourself a sense of self-expression.
Instead of going to the gym, how about you indulge in some greasy food and spend prime gym time on the couch channel surfing? Let your guilt melt away!
So, whether you want variety by choosing a caftan ( or that designer Hawaiian mu'umu'u look) here are 7 ways to rock the hell out of that muumuu this summer and feel your absolute best!
1. Throw your razor away.
That muumuu will give you full coverage. Why spend time nicking yourself with those sharp blades and bleeding all over the place?
Save yourself time (and money) by tossing your razor right in the trash. Let the hair on your legs, underarms — and anywhere else the sun won't shine — be FREE!
2. Deodorant? Nah.
Think of the muumuu as a tarp. All your sweat will permeate inside your clothing, but nobody else will be able to smell you.
You're probably accustomed to your own stank, so you'll only be offending yourself, instead of others.
3. Burn your bra.
If a muumuu makes you feel like you're naked underneath its tent-like appearance, don't bother wearing a bra (or underwear).
It's liberating to let your girls free, and will most likely help to air everything out. And I mean everything.
4. Forget about applying sun block.
Since the sun won't touch ANY of your skin (aside from your face, of course), you need not worry about burning, or getting sun poisoning from over-exposure.
Save your money and save your skin ... one muumuu at a time.
5. Make the term "sweaty as F*CK" part of your vocabulary.
And put it to good use! As mentioned before, your muumuu is like a tarp that keeps everything in. Hopefully, you enjoy going to saunas and can become proud of your sweat.
After all, it is summer and everyone sweats when it's hot enough.
6. Or ... install air conditioning inside your clothing.
Yep, it really is a thing! Oh, Japan, how I love you so.
Because it's so hot out (and you don't want your face to melt off), consider investing in air-conditioned clothing. That way, you won't overheat if you're out in the sun, or think about stripping your muumuu off.
7. Vacation in the mountains.
The hot sand at the beach is nice, but nothing compares to the soothing, dry coolness of the mountains. You'll be secluded from scantily-clad bodies in bikinis — and if you're lucky enough, from the blaring sun.
No more sweating for you ... just lots and lots of shivering.
Previous
Next
BEGIN