Photo: WeHeartIt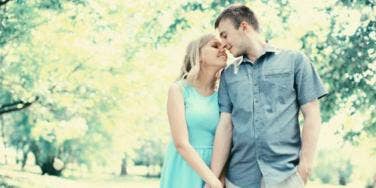 So you can smell better than the flowers your date gives you.
By Katrina Southerland
Although we are absolutely loving this warmer weather, with spring comes allergies, which can interfere with our fragrance preferences.
Click through our top 10 picks of light, alluring spring and summer fragrances that won't require a nasal spray to appreciate.
Aqua Allegoria Teazzura
Aqua Allegoria Teazzurra by Guerlain is a must for your spring fragrance list. This light fresh fragrance consists of Bergamot and Yuzu as top notes, Jasmine, Violet and Green Tea Accord as middle notes, and Vanilla and Matte Absolute for its bottom notes.
Philosophy Amazing Grace
This light, powdery fresh scent from Philosophy is perfect for someone whose allergies are acting up.
Turquoise Summer
This light fragrance by Escada uses the notes of raspberries, blackcurrant and violet to create an ideal spring and summer scent, perfect for a relaxing day in a park or on the beach.
Flowerbomb
Enjoy this classic spring fragrance by Viktor & Rolf, with Sambac Jasmine, Centifolia Rose, Cattleya Orchid, Ballerina Freesia and Patchouli.
Flowerbomb, $80
DKNY Be Delicious
Be Delicious is a light fragrance by DKNY with radiating skin qualities. Its combination of the notes Cucumber, Grapefruit, Magnolia, Tuberose, Muguet, Rose, Violet, Sandalwood, Blonde Woods and White Amber make it an ideal choice to wear in the spring and take into the summer months.
Be Delicious 3.4 oz, $75
Coconut Body Mist
Smell like a fine pina colada with this Coconut Body Mist from The Body Shop.
Coconut Body Mist, $13
Mango Temptation Body Mist
The best part about body mists? You can use more of it! Victoria's Secret combines the scents of rose, gardenia, hyacinth, sweet pea, pear and vanilla. Body mists are perfect for the spring and summer months!
Light Blue Sunset in Salina
Inspired by the scents of the Aeolian Islands in Sicily and the Mediterranean summers, this alluring fragrance combines vine leaves, opulent flowers and sun-baked white musk.
ACQUA DI GIOIA
Giorgio Armani's Acqua di Giogia now comes in a hydrating body mist, perfect for those hot days lounging out! Acqua di Giogia includes Mint, Brown Sugar, Lemon, Jasmine, Peony, Pink Pepper, Cedarwood and Labdanum to create this alluring, fresh scent.
Previous
Next
BEGIN