Photo: Warner Brothers Television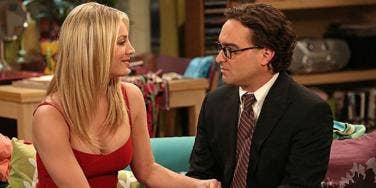 Imagine breaking up with a coworker. Now imagine breaking up with a coworker ... and it's your job to make out with them. Yikes.
You shouldn't date people that you work with. Let's say you ask out Carol, who's the office manager. You go on a couple of dates, but then she discovers that you like rub your feet in peanut butter before you put your shoes on and she breaks up with you. Hey, these things happen, no big deal. That is, until you need more paper clips. Carol won't talk to you, and you can't get your job done, all because you asked Carol to TGIFriday's for half-priced appetizers.
At least you don't have to pretend that you like Carol anymore. Your job is whatever your job is, but it's probably not acting like you're friends with Carol. That would be a ridiculous job. Unless you were an actor. Then it would be a ridiculously awesome job!
Actors date each other, deal with it. We all wish they were dating us, but it's not happening so just move on. Sometimes, though, they date someone they're working with, they break up, but they're both still on the same show. So even though they don't want to see each other anymore, they have to spend hours each day pretending to still be friends. That must be super awkward for them, but it's definitely hilarious for us. Here are 10 couples that broke up, but still worked together.
Photo: Warner Brothers Television
1. Kaley Cuoco and Johnny Galecki
The Big Bang Theory really wants Leonard and Penny to be the next Ross and Rachel, but they're more likely going to go down in history as the next fart and burp. Johnny Galecki tricked Kaley Cuoco into dating him until she realized she was more popular than he was. The show's still going on, and Johnny Galecki does a really good job of not bursting into tears every time they share a scene.
2. Jennifer Carpenter and Michael C. Hall
Photo: Warner Brothers Television
3. Blake Lively and Penn Badgley
Despite Dan and Serena getting married on Gossip Girl, things didn't work out between Penn Badgley and Blake Lively. They broke up, and she quickly started dating Leonardo DiCaprio, then Ryan Reynolds (then married him!), or as Penn Badgley calls him, "that jerk from that dumb Green guy movie!"
Photo: Sony Pictures Television
4. Katie Holmes and Joshua Jackson
Before being held hostage by Tom Cruise, Katie Holmes had a pretty active dating life. She reportedly dated Joshua Jackson, who starred with her on Dawson's Creek. The relationship didn't last, but the show continued on, because NOTHING CAN STOP DAWSON AND HIS CREEK!
Photo: Bad Robot Productions
5. Jennifer Garner and Michael Vartan
Alias ended with Sydney and Vaughn settling down and raising a family. In real life, Jennifer Garner dated Michael Vartan briefly (after reportedly cheating with him when she was married to Scott Foley). She ended up marrying Ben Affleck. He ended up marrying some girl he met in a parking lot, then divorcing her, too, because things don't always work out for everybody.
6. Sammi and Ronnie
Nobody was rooting for Sammi and Ronnie on Jersey Shore. They kept breaking up and getting back together, until it finally just ended for real. It's usually a sign that the relationship is in bad shape when you constantly break up.
Photo: Warner Brothers Television
7. Sophia Bush and Chad Michael Murray
I never watched One Tree Hill, but it was basically about boring white people being boring white people. Chad Michael Murray married costar Sophia Bush, but it lasted less than a full season of the show because apparently he cheated with his House Of Wax co-star Paris Hilton. Downgrade.
8. Gwen Stefani and Tony Kanal
Gwen Stefani used to be famous. Before that, she used to be in No Doubt. She dated bass player Tony Kanal, and luckily they broke up and she married Gavin Rossdale. She ended up writing one of her biggest hits about it. Sometimes it pays to get your heart smashed into pieces.
Photo: Warner Brothers Television
9. Nina Dobrev and Ian Somerhalder
Is The Vampire Diaries the same show as True Blood? I have no idea. Nina Dobrev and Ian Somerhalder star on the show, and they dated until 2013. Basically, it was the TV version of Twilight, only way less popular. Now he's married to Nikki Reed, who actually was in the real Twilight. Jesus, this almost sounds like incest.
10. Jennifer Morrison and Jesse Spencer
Jennifer Morrison starred on House as Cameron, a doctor who had a crush on Dr House. Cameron ended up marrying Chase, a different doctor in the same hospital. The two actors dated behind the scenes and even got engaged, but like their characters on the show, they weren't destined for a happy ending. On the show, their relationship fell apart after Chase murdered James Earl Jones. I hope that's not why they broke up in real life...
Previous
Next
BEGIN