Photo: Columbia Pictures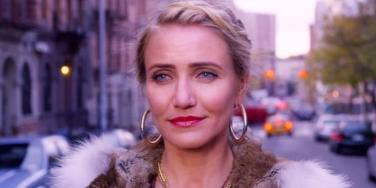 These stars have loose lips about their lady bits.
In all honesty, as a guy, vaginas are kind of a mystery to me. Like, I know what they are and where they're located and generally what they do, but other than that, I don't know anything about them. I mean, girls have a doctor just for their vagina. Guys don't go to a dick doctor. We just let that thing hang around and do its thing.
Also, guys talk about our stuff all the time. We don't care. No girl has ever wondered what it's like to have a weiner, because guys talk about it all the time. Girls tend to be very private about their situations. Girls keep it mysterious.
As a result, it's shocking when a girl actually says something about her v-spot. Especially famous women! Those are the most private Vs out of them all. Everyone's trying to get information about them, and they're heavily guarded. Well, not always! Here are 10 famous women talking about their vaginas and just blowing every dude's mind!
1. Cameron Diaz
When she appeared on Chelsea Lately, Cameron Diaz talked about how vaginas are like flowers and should be treated like one. Then she said, "I say grab a mirror and play along. Get in there." Maybe Cameron Diaz shouldn't be handling flowers any time soon.
Photo: Universal Pictures
2. Amanda Seyfried
According to Amanda Seyfried, her vagina knows immediately whether or not it likes someone. She told ELLE​, "Everybody I've dated I've been sexually attracted to immediately. Sparks don't grow—your vagina doesn't become more inclined to wanting someone just because you're around them." Sounds like it's shallow and not interested in personality.
3. Demi Lovato
Don't ask Demi Lovato for her autograph if you're her OB/GYN and you're currently examining her. She told a New Zealand radio show, "There have been so many uncomfortable and actually violating moments when like, I've been at the gynecologist and the doctor's like, 'Can I have an autograph for my daughter?' "I'm like, 'F–k you! … What the hell is wrong with you?' Or I'll get laser or whatever and someone will be like, 'My such-and-such is a huge fan,' and it's like, 'Great, you can now tell them you've seen my vagina. Like the whole thing!'"Just wait until the end and sneak it into all the medical forms she has to fill out. It's not that complicated.
4. Shailene Woodley
Shailene Woodley has admitted that she likes to tan in between her legs. She told Into The Gloss, "I like to give my vagina a little vitamin D. I was reading an article written by an herbalist about yeast infections and other genital issues, and she said there's nothing better than vitamin D. If you're feeling depleted, go in the sun for an hour and see how much energy you get. Or, if you live in a place that has heavy winters, when the sun finally comes out, spread your legs and get some sunshine."Yeah, tan lines are the worst!
5. Jennifer Lawrence
Jennifer Lawrence once told Chelsea Handler that she needs to start exercising her vagina. I mean, maybe a little bit, but those things don't have to be too strong, ok?
6. Kate Beckinsale
Kate Beckinsale, star of that movie you think you saw that one time, talks about her vagina so much that her daughter had to beg her to stop. She told Allure, "Well, I haven't done an awful lot of nude scenes. And I've been somebody who has had a child for a very long time. Most of my peers don't have a 13-year-old. And it's embarrassing. My daughter said to me, 'You know, I'd really love it if you never said the word 'vagina' in an interview again.' Whoops. I've just done it." Either her daughter is a normal kid that doesn't want her mom to embarrass her, or Kate Beckinsale has a boring vagina.
7. Kate Winslet
Kate Winslet once revealed that she almost had to wear a pubic wig for a role. Due to years of waxing, the hair just wasn't growing in the right way.
8. Lady Gaga
Lady Gaga thinks that her creativity can be stolen from her through her vagina. In reality, she lost her creativity when she fired her producers, but maybe she also fired her vagina?
9. Olivia Wilde
I guess Olivia Wilde's first marriage wasn't that great. She described it thusly: "I felt like my vagina died ... Turned off. Lights out... you can lie to your relatives at Christmas dinner and tell them everything on the home front is just peachy. But you cannot lie to your vagina." Now she and Jason Sudeikis won't shut up about their sex life, so I'm guessing she doesn't miss the guy too much.
10. Jennifer Love Hewitt
On the George Lopez Show, Jennifer Love Hewitt admitted to using crystals on her vagina after a breakup. Why? What do crystals do? Was she trying to shoot a laser up there or something?
Previous
Next
BEGIN