Photo: Columbia Pictures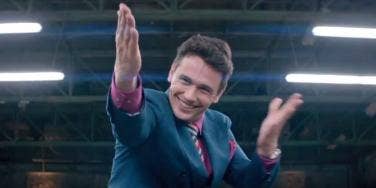 These stars got higher educations AFTER becoming super-famous.
School is the worst. Since this is a website that I'm pretty sure kids don't read, I'm okay with saying that. We all pretend that it's necessary, but it really isn't. It takes place early in the day, there's homework, detention and nothing fun at all. Even stuff like sports and dances are just less fun versions of things people can do outside of school.
We all leave school as soon as we can. Typically, it's when we graduate. No one keeps going to school after they graduate, because that'd be crazy. Some people leave before they graduate, but they typically don't end up in a good place. There are a few exceptions. For example, a ton of celebrities left school because they became famous. They were like "Oh, I don't have to do this anymore, and I won't end up homeless? I'm outta here, nerds!" Then they left, and nobody judged them for it.
Still, some famous people forget that they're rich and famous and don't have to do boring things and go back to school. I'm not talking about someone that was a one hit wonder and then was like, "Oh no, that didn't last very long! Now I have to get a job!" I'm talking about people who have solid careers but still went back to school. Celebrities are weird.
Photo: Summit Entertainment
1. Ashley Judd
College credits can be confusing. For example, Ashley Judd left college in 1990 to pursue a career in Hollywood. It wasn't until 2007 that Judd realized that she had actually completed enough credits to graduate, and that all she had to do was let the school know. So, she went back to school, but just to sign some papers so she could receive her degree in French. I don't know what's worse, the fact that she didn't realize she could have graduated, or that she majored in French.
Photo: Walt Disney Studios
2. Natalie Portman
Despite already being a movie star, Natalie Portman decided that she still wanted to go to college. This was also right around the time that she was starring in the Star Wars prequels, so maybe she wasn't too convinced on her future in Hollywood. Those things stunk. She graduated Harvard in 2003, and then put her degree to good use by continuing to be a movie star.
Photo: Paramount Pictures
3. Mark Wahlberg
Despite starting high school back in the '80s, Mark Wahlberg didn't receive his diploma until 2013. Now that he has a high school diploma, he's started making smarter movies like Transformers: Age of Extinction and Ted.
4. James Franco
Did you know that while he was filming Spider-man 3, James Franco was enrolled at UCLA? He actually used his experience on set filming the movie as independent study credits. I guess his professors didn't watch the actual movie, because he still graduated in 2008.
Photo: Nickelodeon Studios
5. Miranda Cosgrove
I guess seeing the fates of other child actors drove Miranda Cosgrove to further her education. She started attending the University of Southern California in 2012, despite having been an actress since 2003.
6. Eva Longoria
In 2009, Eva Longoria enrolled in Cal State University, studying in the political science masters program. She just wanted a better understanding of the world, or something. Rich people get to go college for fun, which is super depressing for the rest of us.
7. Emma Watson
Emma Watson took five years to graduate from Brown University. Apparently, filming Harry Potter got in the way of her studies or something. I don't know, sounds like an excuse to me.
8. Elizabeth Shue
Elizabeth Shue left Harvard in 1985 due to her burgeoning film career. She returned in 1997, and graduated in 2000. I like to imagine her education came in real handy on the set of Piranha 3D.
Photo: Paramount Pictures
9. Denzel Washington
This is a bit of a cheat, but Denzel Washington has been awarded several honorary doctorates from several different colleges. Even though they're honorary, we should still be calling him Dr. Washington.
Photo: Touchstone Pictures
10. Shaquille O'Neal
Shaq left college early to join the NBA, which was probably the correct decision. He decided to complete his studies, and earned his Doctorate in Education in 2012. Yes, Shaq is also a doctor. Think about that the next time you make fun of his foul shot or rap album.
Previous
Next
BEGIN