Photo: Warner Brothers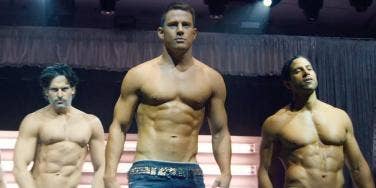 Apparently Leonardo DiCaprio has the standard "dad bod." Let these celeb dads show him what a REAL "dad bod" looks like.
So, apparently having a dadbod is in right now. A dadbod is basically a normal looking body for a man who is starting to get a little bit older. It gets the name because when a man becomes a dad, it's harder to eat healthy and work out. Men's bodies start to get a little bit pudgy and life goes on. The thing is, dadbod is normal. Regular men end up with dadbods because life is a thing that happens to people. Celebrities tend not to get dadbods because they get paid to look better than us. So even if they have a couple of kids, celebrities stay in shape because it's their job.
Recently, a few pictures of Leonardo DiCaprio popped up online where he was starting to rock a dadbod. All of the sudden, dadbods are in. That's not true though, because Leo doesn't really have a dadbod and he's still rich and famous. He can let himself go a little bit and it will be fine. No one is going to care about a belly as long as it's attached to an A-list actor who lives in a giant mansion and picks lingerie models out of a catalog to date him. Also, he doesn't even have kids.
There is no dadbod craze. If dadbods were in, then abs would go extinct immediately. Do you know how hard it is to have abs? No one would stay in shape if they didn't have to. Just because one celeb lets himself go doesn't mean anything. Here are 10 celebrity dads that prove that dadbod isn't in at all.
Photo: Walt Disney Studios
1. Anthony Mackie
Anthony Mackie has a kid, but he also starred in a movie about a gang of criminal body builders and he's also Captain America's partner, the Falcon. His dadbod can beat up your dad.
2. Mark Wahlberg
I bet Mark Wahlberg calls his abs the funky bunch. If he doesn't do that, I'll never forgive him.
Photo: Walt Disney Pictures
3. Chris Pratt
Chris Pratt used to have a dadbod. Then Disney paid him millions of dollars to do some sit ups, and now he hates wearing a shirt.
Photo: 20th Century Fox Television
4. Neil Patrick Harris
Doogie Howser? More like Doogie HOTser!
5. Kevin James
Seriously, Kevin James is in better shape than Leonardo DiCaprio. Kevin James! Get it together, Leo.
6. Chris Hemsworth
I heard to get in shape to play Thor, Chris Hemsworth ate nothing but live chickens. His work out was catching the chickens. Chickens have tons of protein.
7. Christian Bale
When you look like Christian Bale, you can get away with growling your way through an entire trilogy of movies.
8. Channing Tatum
Channing Tatum has a daughter. She's named "I aint giving up my six pack for you!"
9. Brad Pitt
Despite adopting 35 hundred kids, and having twice as many on his own, Brad Pitt has kept his body together. I bet he calls Leo in the middle of the night and taunts him about it.
10. Will Smith
We all made fun of Will Smith for getting jiggy wit it, but it turns out that getting jiggy is a great exercise for your core muscles. Well played, big Willy style, well played.
Previous
Next
BEGIN