Photo: weheartit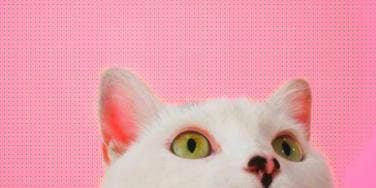 Humans in love? HISS.
You love your cat. You really do. They are the sunshine during a cloudy day, the witnesses to your good days and bad days. And they love you, too, if the licks and cuddles are any indication.
But cats get insanely jealous, yo. You (their owner) and your home (their home) are part of their territory that should be protected at all costs ... even if said protection is not needed.
According to Pet Place, "any change that affects a cat's privileges, attention received, and normal daily life can lead to the cat feeling jealous and territorial." This can vary from bringing home visitors they've never met before, a new baby, or a boyfriend/girlfriend.
I'm sure these 10 cats love their owners very much. Their owner's significant other, however? They're SO done with being the third wheel.
1. "Yeahhhh, I'm going to piss all over your Christmas tree."
2. "No holding hands. Not on MY watch!"
3. "I said NO HOLDING HANDS!"
4. "I can't believe you're making me do this!"
6. "Behold my beautiful cat butt. Your wedding photo is nice, too."
7. "Sorry, not sorry, for photobombing. In my defense, I'm cuter."
8. "Stop this foolishness! You are not my father!"
9. "Damn right I look good. That jack-o-lantern can beat it!"
10. "Oh, I am SO throwing up on all your stuff."
Previous
Next
BEGIN