Photo: weheartit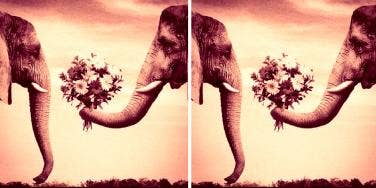 Eating an apple covered in armpit sweat is an actual thing.
Dating has been around for as long as people needed to find mates and life partners but the dating rituals of the modern world vastly differ from that of the past.
For example, in Austria during the 19th-century, courtship involved women stuffing a slice of apple into their armpits and giving it to the apple of their eye (couldn't resist that one), and if the man of their choosing felt the same way, they'd eat it. Because um, that's when you know it's true love.
Obviously, Austrians don't do this anymore, not just because it's unsanitary, but because it's just plain weird.
However, in some parts of the world, cultural beliefs and traditions still persist — from the Amish of the United States to the the Hindus in Bali. But, to the practitioners of these rituals, it's a norm and a way to preserve culture and tradition, even in the modern world.
Even though some of rituals are not as gross as say, consuming an armpit sweat-drenched apple, they are still bizarre to outsiders looking in. Here are 10 of them, still practiced in some parts of the world today:
1. Borneo newlyweds are not allowed to use the bathroom for 3 days.
The Tidong people believe that emptying your bowels leads "to a broken marriage, infertility, or even the untimely death of your children." And to ensure this, the newlyweds are locked in their honeymoon suite with little food and water for the next three days.
Must be one heck of a wedding night, lamenting your excessive need to pee with the love of your life.
2. People in India marry trees to avoid cosmic misfortune.
Remember that girl who claimed to be in a relationship with a tree? Do you think she ever heard of this? In India, if you were born under the influence of Mars, you can face his wrath.
The good news is if you marry an inanimate object — in this case, a tree; in other cases, a gold or silver statue of the god Vishnu ... but who has those just lying around? — Mars' anger will be subdued and you and your significant other are free to marry without fear of lightning striking one of you down.
3. People in Bali sharpen their teeth to enjoy the afterlife.
Hindu Balinese couples who want to get married have to go through 13 rituals of purification before the big day. One of these is the filing of six teeth.
This is due to the belief that "unaltered teeth will not be able to enjoy their afterlives, remaining separated from their ancestors."
4. The Welsh give lovespoons.
Since the 17th century, a Welsh man would hand-carve a wooden spoon as a token of his affection for the object of his desire. If she accepted, they began courting.
Although the courting practice has long since faded, the exchanging of spoons as signs of affection still persist.
5. In India, grooms are kidnapped for their wives. Literally.
Rich men, beware! Due to poverty, some families in Bihar, India kidnap young men to marry off to their daughters. Why? Because it means they don't have to pay a dowry!
Dowries cost a lot of money so to avoid losing money (but to also ensure that their daughters will be provided for), the logical solution is to force a man to marry her against his will.
The Indian police label this practice as "almost customary." Right ...
6. Cambodian parents build love huts for courting.
Unlike most cultures, the Kreung tribe in Cambodia encourage their teenage daughters to interact with boys in order to find a suitable husband. And these love huts? They are built as safe spaces for the girls to talk with the object of their interest and to take control of their own sexual encounters.
Because it is inappropriate for a man and woman to be seen together if they have no intention of marrying, the men must leave the love hut by morning. If a girl feels no spark with the guy she invites over, she can turn him away.
7. West Africans have "fat farms."
In Mauritania, they have a different standard of beauty. Being fat is equivalent to incredible wealth and a high status. Thus, some areas still have "fat farms," in which the older women of the village keep young girls in a room and feed them gallons of milk and couscous.
In some cases, they are force-fed and beaten if they cannot keep their food down. Yikes!
8. Celery dishes are served at Amish weddings.
This isn't a ritual per se, but it IS an example of upholding tradition and culture. Since the Amish frown upon gossip, no one knows if someone in their community is getting married until it is announced in church a few weeks before the big day ... unless they notice a large surplus of celery stalks in someone's garden.
That usually means someone is getting hitched and they are preparing necessary ingredients for the wedding feast. No one really knows why, though. It's just ... a tradition.
9. In China, men "visit" girls over bonfires.
The Dai people have an annual courtship ritual that involves the young women sitting together in a bonfire with their spinning wheels. Meanwhile, the young men, while wearing red blankets and playing musical instruments, choose a woman to serenade.
If she likes him back, she'll invite him to sit with her on a stool she keeps with her. Wrapped in his red blanket, they talk. A serenade and warm blanket bathed in the romantic glow of a bonfire? Very romantic! (And we're not even being sarcastic!)
10. In Bhutan, men "nighthunt" and break into women's bedrooms.
Apparently, breaking and entering isn't a crime if it's in the name of love. Night hunting is a popular practice amongst the young men of Bhutan, when they prowl the streets at night, find their potential lover's house, break in through the window, and join her in bed.
Some people actually consider this practice as a type of game but, you know, it can be annoying for the girls who don't want these weirdos climbing into bed with them. So, they sometimes have to vary their sleeping locations.
If the guy happens to get caught or get her pregnant, he has to marry the girl. Guess you have that to consider if you're thinking about sneaking into some poor girl's room.
Previous
Next
BEGIN