Photo: weheartit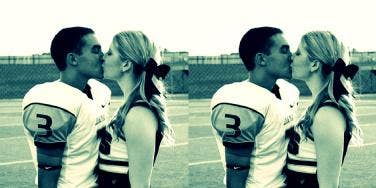 You grew up but did HE?
Ahhh, high school boyfriends. I'm having a serious flashback to what I thought was forever love. Good thing we've all (or most of us, at least) have grown from our past relationships, especially those that might have been our first.
Who did you date in high school? Was your boyfriend the cute, nerdy guy or the school athlete? The quiet one or the class clown? Was he a nice guy but you weren't compatible? Or was he the douchebag that dumped you Valentine's Day?
No matter who he was or what kind of relationship you had, do you ever wonder what happened to him?
Obviously, if you're still friends with your ex or see him (hopefully VERY infrequently), you know some details of his life. But what about the ex you haven't spoken to or run into since the breakup?
Do you know who he grew up to be? Here's a few guesses:
1. The ex who ONLY dates hot women.
When you dated, he was scrawny and shy. Now every time you see him, there is a new girl on his arm. And if you're friends on Facebook, each new profile picture is with a different woman ... and every single one of them is HOT. We're talking borderline supermodel.
He barely had game when you were together. In fact, he's lucky he ever dated you; without you, he'd probably be home on a Friday night playing video games. But now, bro has GAME. Or money.
2. The ex who became Mr. Successful.
He got crazy-rich after he graduated college and now owns a multi-million dollar company. He might have been the guy who was always good with computers or maybe the hustler that hooked you up with the best candy by smuggling it into school.
Somehow, deep down, you knew he was made for greatness. He was on the cover of Forbes, for f*ck sake! But I'm sure with all the traveling and overtime work, he doesn't have time for romance anyway.
3. The ex who NEVER found love after you.
You dated for a few months and then he dumped you out of the blue. Nevertheless, he always tried to win you back but you moved on to bigger and better things.
One he stopped contacting you, mutual friends say he gave up on finding love. Right now, he's single, traveling the world and is probably doing some kind of humanitarian work overseas. Or doing some late night scouring of the local bars in search of a new love.
4. The ex who went bald.
There's nothing wrong with men who go bald but he wears a toupee ... a really, REALLY horrible toupee that doesn't even fit on his head. Enough said.
5. The ex who aged horribly.
You barely recognize him now! His boyish, good looks went down the drain with age and it looks like he really let himself go. Actually, as you get closer to his face, he kind of looks like your Grandpa.
6. The ex who got unhealthily fat.
In high school, he was the star track runner and had a nice physique. Maybe he went too crazy in college with the alcohol and greasy food because his beer gut is out of control. For some reason, you find yourself singing fat guy in a little coat every time you think of him.
You can't help but wonder what would have happened if you stayed together. Nope, stop wondering. Better leave that thought in the back of your mind forever.
7. The ex who keeps chasing you.
You broke up over 10 years ago but that hasn't stopped him from occasionally calling or texting you to check in. He's even conveniently showed up at your favorite coffee shop. He's actually a nice guy so you don't want to block him or file a restraining order, but, like, move on bro.
8. The ex who found "the one" after you broke up.
You dated, you broke up, and the next woman he dated turned out to be "the one." Yep, he turned you into Good Luck, Chuck. Awesome.
9. The ex who became a ghost.
Not literally a ghost. He didn't die ... as far as you know. After graduation when you went your separate ways, he disappeared off the face of the earth. Your other alumni classmates have no idea what happened to him, either and he's nowhere to be found on Facebook or Google search.
It's almost like he never even existed. Spooky!
10. The ex who thinks he's STILL in high school.
He never actually left home and lives in his parents' basement. You don't know what he does for work but apparently he thinks leather jackets and a wardrobe from the 70s/80s/90s are chic. He also drives the same beat-up car he took you to prom in (which, mysteriously, hasn't broken down yet). #dodgedabullet
11. The ex who pumps your gas.
Once he humped you, but now he's pumping you (by filling up your car, ya nasty). He works at a gas station and hey, at least that grease stain on his shirt is charming?
12. The ex who ended up on a trashy reality show.
Maybe you were channel surfing and saw him on an episode of Cheaters, where his girlfriend caught him in bed with another man. Or he's a Bachelorette hopeful. Or you saw him on a common paternity segment on Maury, where 3 women accused him of being their baby daddy.
13. The ex who got locked up.
In high school, he was ambitious and looked forward to new experiences. A few bad decisions and now he looks forward to 3 bland meals and a nice orange jump suit.
Pat yourself on the back for getting far away from that criminal activity.
14. The ex you're still hung up on.
Hands down, the worst type. Your breakup was bittersweet and you never quite got over him. Maybe luck is on your side and he didn't end up like those other kinds of exes. You've contemplated reaching out to him (or maybe you have already after 6 gin and tonics) but don't you think it's time you moved on, too? Let the past stay in the past and find someone else.
Previous
Next
BEGIN