Photo: IMDB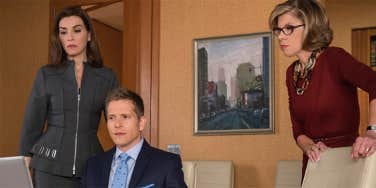 Alicia Florrick is the most badass "good wife."
Spoilers ahead: As we near the end of the sixth season of The Good Wife, we are starting to see a whole new side of the show. Alicia has just been elected the new states attorney and she is starting to realize that while it seems like that person has lots of power, they really don't. Kalinda is in more trouble than we've ever seen her before, and with rumors that Archie Panjabi is leaving the show, we are starting to worry about what the season finale is going to look like. We also have Finn and Johnny, who both seem to have an interest in Alicia, meaning that we could be looking at a very intense love triangle — square if you count the fact that Peter is still her husband. Basically, there are tons of things to look forward to going into the final few weeks of the show.
If you haven't started watching The Good Wife yet, you really need to start because it's amazing and there are so many amazing people on the show. Yes, we have a real obsession with Alan Cumming, AKA Eli Gold, because he's amazing and fabulous. Also, Cary Agos is damn attractive, especially for us who were obsessed with Gilmore Girls when Matt Czuchry played Logan. See?! There are too many awesome things about this show for you not to be watching it.
Here are 14 things you didn't know about The Good Wife:
1. Julianna Margulies wears a wig!
That's right, according to IMDB, Alicia Florrick's hair isn't naturally that perfect.
2. 'The Good Wife' is based on real scandals.
"There had been this waterfall of these kind of scandals, from Bill and Hillary, to Dick Morris, to Eliot Spitzer, to name just a few," producer Michelle King said. "I think they are all over our culture. What's interesting about a lot of these political scandals is that the women are lawyers. Hillary is a lawyer. Elizabeth Edwards is a lawyer. That got us thinking along those lines."
3. They film 9 months out of the year.
Julianna Margulies films 14 hours a day, 5 days a week, for 9 months out of the year.
4. Julianna Margulies wasn't the original choice for Alicia.
Ashley Judd and Helen Hunt both turned down the role before Margulies got on board.
5. Eli Gold is also based on a real person.
6. The show is shot in New York.
Even though it's set in Chicago, they film in New York. They were originally supposed to film in Canada, but Margulies had just become a mom and asked if they could stay in the city.
7. There's a trick with the episode titles.
Between seasons 1-4 each episode title corresponded to which season they were on. For example, in season 1 all the titles were one word, in season 2 all the titles were two words, etc. They changed it up beginning in season 5 though.
8. Elisabeth Shue was also considered for Alicia.
But she too turned down the role.
9. Kristin Chenoweth was hurt on-set.
A piece of lighting equipment fell on her during a scene when she guest starred in season 2 and she was taken to the hospital. She had a skull fracture and pain in her hip/ribs. It took a while to recover and she never completed her scenes.
10. 'The Good Wife' is always nominated!
Julianna Margulies has been nominated for her role as Alicia Florrick five years in a row at the Golden Globes, four out of five years for Emmys, and five years for SAG awards. The entire cast has been nominated eight times between the three major award shows. Basically everyone loves The Good Wife.
11. Julianna Margulies' husband is a lawyer.
She met her husband Keith Lieberthal at a dinner and she told Ellen DeGeneres she knew he was the one right when she met him. Do you think he gives her tips for the show?
12. Julianna Margulies doesn't like Alicia and Peter together.
She told TV Line that Alicia and Peter definitely should not be together and she wants Alicia to find someone new even though they need each other politically.
13. Margulies is a fabulous baker.
14. Alan Cumming is Scottish.
If you've never seen an Alan Cumming interview, you would never know that he has a pretty strong Scottish accent.
Previous
Next
BEGIN