Photo: Justin Bieber Snapchat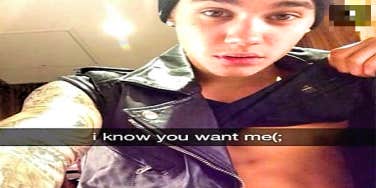 These snaps are guaranteed to make you roll your eyes and tap through to the next one.
Since its release in 2011, Snapchat has exploded into one of the most popular forms of communication among Millennials.
It's a quick way of sending photos without taking up space in your photo library. Friends can have entire conversations with captioned pictures. Unfortunately, this also creates a new way for people to shove their personal life in your face and get annoying fast.
Here's how to use Snapchat if your goal is to annoy your friends using lenses, filters and stories.
1. Loud Club/Concert Snaps
Have you ever watched a concert on your phone? No. And why would you want to?
I promise you, none of your friends are watching your loud, distorted, shaky snap video — it's getting tapped immediately.
The same applies for snaps at a club or bar. No one wants to hear the sounds of a bar unless they're at the bar with several drinks in them.
Drunk people poorly belting out the lyrics to "Sweet Caroline" may be my ringtone, but it doesn't mean I want to hear that when I open Snapchat.
Put down the phone and just enjoy yourself!
2. Driving Snaps
These snaps are an accident waiting to happen and completely unnecessary.
I don't care how fast you're driving or what the temperature is wherever you are.
This also goes for video snaps of your radio to show your friends what song you're listening to.
No one is turning on their volume for that, just drive and snap after you get there.
Your family will thank you when you arrive safely.
3. Text Only Snaps
Snapchat is an app for pictures with quick, fun messages without always having to type.
If you find yourself snapping someone and you start sending pictures of random things just to type different messages, just text them!
They don't need to see a picture of your toaster to know you want to talk.
Snapchat's 31 character limit clearly isn't cutting it for your conversation — switch to texting.
4. Obnoxiously Long Snap Stories
You know who you are.
You probably post a ton of pictures on Facebook and Instagram as well. You need to chill.
It's ok to show you're having a good time or doing something interesting, but don't overload your friends.
These obnoxiously long stories are only made worse by my next point …
5. All The Selfies
There's nothing wrong with taking the occasional selfie, but when your snap story is ALL THE SELFIES, it's annoying.
We get it, you're cute. Congratulations from us average-looking mortals.
The "duck faces" have to stop, too. Unless your goal is to attract a mallard, you're better off smiling.
6. The Hot Dog Legs
Are they hot dogs or legs? Who knows, that's the game!
For those unfamiliar with this game, it refers to when females take a picture at the beach or pool so that all you can see are her legs and some scenery to show where she is.
Seriously, this trend needs to stop.
Not going to lie, the idea of the photo is unique … or at least it was back when they started a few years ago.
Now it's just over-used and associated with typical white-girls, just like the "jumping in the air in front of the waves with my friends" pictures.
7. After-Sex Snaps
To describe them in a word … gross.
No one wants to see that — ever.
This includes pictures of your partner covered up in bed.
Thumbs up for getting laid, but please don't make your friends be part of the experience.
8. Pets On Pets On Pets
Yes, pets are cute, but I don't need to see yours every single day.
If it gets to the point where I see your name pop up in my Snapchat and know the picture is probably your dog, you send too many.
This applies to pictures of your kids as well, although you can get away with more with them since they are your own spawn. Unlike your parakeet that I don't care to see more pictures of.
Photo: Justin Bieber News
9. Unsolicited Dick Pics
The creators of Snapchat had to know that their app would be used to send nudes, but the disappearing picture is enough to convince some guys that sending random, unsolicited dick pics is a good idea.
This just in: it's not!
Keep it in your pants and don't digitally assault some poor, unsuspecting snapper with your genitalia.
10. You're Special! Wait ... JK, No You're Not
It's annoying when you get a Snapchat from someone you're crushing, get super excited and start planning out your fantasy lives together until you see they posted the same picture to their story.
They wanted to make sure you saw it, but they also shared the picture with everyone else.
It's a sh*t show of mixed feelings guaranteed to make you over-think the situation.
Previous
Next
BEGIN