Photo: weheartit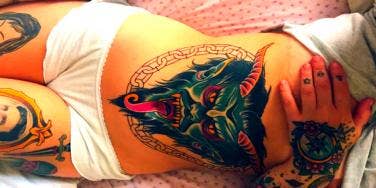 You're not justing show some skin, you're showing some personality, too.
What do the undies you are wearing right now say about you? Are you feeling shy? Naughty? Ready to play?
Wearing sexy underwear can mean the difference between feeling blah and adding that extra umph, that extra skip in your step that we all could use to feel sexier and more comfortable in our bodies, says Jenny Block, author of O Wow: Discovering Your Ultimate Orgasm. "There is nothing like getting dressed in the morning and feeling that satin and lace or that super soft cotton with the cute cut and pattern and thinking, "I look pretty damn good. And I feel pretty damn good too." And sexy!
Same goes for at night. After a long day, it's a great ego boost to slip out of your clothes and catch a glimpse of yourself in the mirror and think, "Not too shabby!" says Block. Not to mention seeing that look in the eyes of your partner in crime that says, "Yes, please!" Of course, we all have our blah days, our "we don't care" days, our "we need to do laundry..." days, and our "I have my period and am wearing granny panties" days. But in the day-to-day of our lives, our undies can tell a lot about who we are and our personality, Block says.
Some people never give their daily underwear choice a second thought. It is just something that goes on underneath clothing more out of necessity or habit than any desire to express themselves. However, for others it is just that — an extension of their personality, mood, or self-expression.
"An interesting (not so surprising) commonality I have found as a practicing sexologist is that when people begin a new relationship, one of the first clothing purchases they make is on new underwear!" says Dr. Laurie Bennett-Cook, a Clinical Sexologist. Just what is it people are trying to convey with their sexy underwear choices?
G-String
You are a minimalist. "You can't be bothered with extraneous frills, nor extra material between your sugar buns," says Antonia Townsend, founder of Enclosed, a luxury panties-of-the-month service.
Tanga
You are a coy, playful gal. You don't mind a little flutter of fabric to catch the eye. "You like how the tanga lies just so-across your just-so. A tanga is a constant reminder of your last glorious vacation, lounging on a beach near Rio," says Townsend.
Side Tie
"Side-tie panties are all the rage, and you embrace this trend whole-bodily," says Townsend. Terrific under puffy skirts or jeans, these panties provide titillating fun and are ultra-comfortable due their infinite adjustably.
Ruffle-Butt
"You adore the ruffles all around," says Townsend. You dance in front of the mirror so often your neighbors know your go-to songs. You may not be practical (these panties don't do well under tight skirts), but you adore sleeping in them. Bed time has never been such fun.
Granny
"One responder referred to them as utility panties," says Bennett-Cook. Not meant for sex appeal but were worn for their practicality, comfort ability, and function. Female bodied people of all ages seemed to find these appealing on some level.
Bikini
Innocent and coquettish. "These are girl-next-door panties," says Katrina "Rainsong" Messenger. I'm feeling cuddly and my flirt style is holding hands while watching a movie.
Boy Shorts
These were a popular alternative to granny panties. "Many stated they loved the practicality of them but that they also felt very sexy to wear. Lacy versions of these were very popular among both wearers and those who had the privilege of observing the wearer intimately," says Bennett-Cook.
Commando
"You are no-show obsessed," says Townsend. Sure, you have to wash your jeans every wearing, but since you are wearing them skin-tight, shrinking them down every wearing is just to your taste.
I'm free! I love the tickle of a breeze between my legs. "Plus it's fun to walk around with a sexy secret. My flirt style is long-held eye contact and whispering something suggestive," says Messenger.
Thong
"Most who stated they loved wearing a thong said that it was mostly done with the anticipation of a sexual encounter," says Bennett-Cook.
The Matched Set
"You'll go to great lengths to make sure you bra matches your knickers," says Townsend. Everything must be in place. You're a little type A, but you are at peace with that.
The Mismatched Set
Work hard, play hard. You want your bra to do its job, and if it looks nice, all the better. But what matters is how it looks when you are dressed. Your panties, on the other hand, have more latitude for fun. As long as the undies don't disrupt the line of your clothing, anything goes. A saucy pink tanga under a business suit? Bring on the investor meeting. A dainty floral thong for afternoon tea? Only you know that your panties match the table cloth!
Previous
Next
BEGIN