Photo: Keystone Studios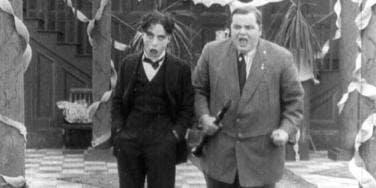 And you thought the stuff you read in the tabloids TODAY was bad?!
People love sex scandals. I mean, not if it's happening to them personally. People love celebrity sex scandals, because we don't really celebrities as actual people. When Brad Pitt left Jennifer Aniston for Angelina Jolie, everyone went nuts! Some famous guy left one famous actress for a different famous actress! That's crazy!
It happens to celebrities a lot, and it's not surprising. Hollywood takes the most talented and attractive people and makes them work away from their families for long periods of time. Also, actors and actresses are surrounded by all of the gorgeous people, and everyone wants to sleep with a famous person. It's not surprising, unless someone starts acting like Tiger Woods and banging every single person who offers it to them.
As long as there have been celebrities, there have been sex scandals. Celebrities don't party responsibly, and they get caught all the time. So, instead of focusing on current sex scandals, here are some older sex scandals you probably weren't even alive for when they happened!
Photo: First National Warner Home Video
1. Charlie Chaplin
Charlie Chaplin is one of the most famous comedians and mustache men from his time. Many people don't remember that there were multiple times that Charlie Chaplin attempted to marry underage girls, usually due to pregnancy scares. Yes, that happened to him more than once.
Photo: Paramount Pictures
2. Clara Bow
When she was threatened with blackmail by her assistant, Clara Bow simply called the police. Her assistant responded by leaking allegations that Bow was a sex maniac, and even had sex with animals. There wasn't much evidence to support these claims though, but it's still embarrassing to have someone publicly accuse you of having sex with animals.
Photo: Metro-Goldwyn-Mayer
3. Elizabeth Taylor
It's always exciting when two famous people get together, unless one of them is married. Elizabeth Taylor caused an uproar when she broke up singer Eddie Fisher's marriage.
4. Errol Flynn
Errol Flynn, a male heartthrob star in the early 1940s, was accused of statutory rape by two young girls. Even though he didn't deny sleeping with them, he was still acquitted by a jury.
5. Fatty Arbuckle
In 1921, Fatty Arbuckle checked into a hotel and threw a party, inviting every woman he could find. One of the party guests, a young actress, died from internal injuries. Arbuckle was accused of rape, which resulted in a media frenzy. Arbuckle was eventually acquitted in trial, but the damage was done.
6. Ingrid Bergman
Ingrid Bergman ruined her good girl image when she got pregnant by a man other than her husband. Already married with children, Bergman had to publicly admit that she was having an affair with the director of her current movie.
7. Olive Thomas
When Olive Thomas accidentally ingested poison while on her honeymoon, rumors began circulating that it was actually a suicide. Many people believe that Thomas swallowed the poison after finding out about her new husband's infidelity.
8. Vincent Price
Rumors surrounded Vincent Price's third marriage to Coral Browne. People close to the couple claimed that it was a marriage of convenience, and that Browne would often have people help her find other women to hook up with.
Photo: Paramount Pictures
9. Anthony Perkins
The guy remembered for his role in Psycho, Anthony Perkins, struggled with rumors about his sexuality. His close friendship with an openly gay actor fueled these rumors, and Perkins would often deal with cruel jokes at his expense because of this.
10. James Woods
After a brief fling with Sean Young in the '80s, veteran actor James Woods left her in favor of his longtime fiancee. Then he alleges that she filled his mailbox with hate mail, photos of mutilated corpses, pictures of dismembered animals and stalked him in person. She denied it, but remember: Sean Young isn't known for being of sound mind.
Previous
Next
BEGIN