Photo: IMDB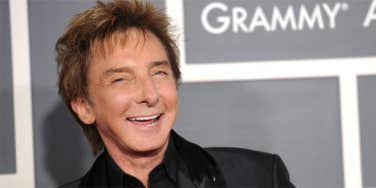 These Hollywood pairs were able to keep their nuptials on the DL.
Secret celebrity weddings have always been pretty trendy, because who really wants their big day ruined by the press coming to try and get pictures? The answer is no one. Although it's really just beginning, the world is finally allowing gay couples to marry (seriously, it's about time America, get over it), but like everyone else, many gay celebrities aren't going to announce their big day until after it happens. Unless you're Lance Bass of course, then you get married on national TV. Ugh, love Lance.
Before we get to the surprise weddings, we want to take a second and mention our favorite celebrity gay couple ever, which is of course Ellen DeGeneres and Portia de Rossi. Their wedding was all over the place though and we got to see a play-by-play of their special day. Despite rumors, they are still together and are basically the cutest couple ever. Had to give a shout out to them for being ah-mazing. "The love we felt from the people surrounding us, and the love we have for each other, made it the most beautiful and emotional day," de Rossi told People.
Here are 10 fabulous gay couples in Hollywood who tied the knot and didn't really tell anyone it was happening.
1. Barry Manilow
Last month National Enquirer broke the news that Barry Manilow married his manager and longtime partner Garry Kief. Suzanne Somers confirmed the report saying that the couple had been together for 30 to 35 years. "Barry has lived a very secretive life and the wedding was no different! Barry and Garry did not tell friends or family that the occasion was their wedding," an "insider" told the Enquirer.
2. Neil Patrick Harris
In September 2014, Neil Patrick Harris surprised everyone when he revealed on Twitter that he and his partner David Burtka tied the knot in Italy. "Guess what? @DavidBurtka and I got married over the weekend. In Italy. Yup, we put the 'n' and 'd' in 'husband.'"
3. Stephen Fry
Revealing your secret wedding on Twitter seems to be popular these days because in January Stephen Fry announced that he married his partner (who's 30 years his junior, by the way) over the weekend. "Gosh. @ElliottGSpencer and I go into a room as two people, sign a book and leave as one. Amazing."
4. Rosie O'Donnell
Even though Rosie and Michelle Rounds are splitting up now, in 2012 they wed in a private ceremony. Rounds was suffering from desmoid tumors, but Rosie announced the wedding after the pair had already wed. "We married in private before her surgery just the two of us," she wrote on her blog.
5. Sean Hayes
Sean Hayes and his partner of 8 years, Scott Icenogle, secretly married in November. He tweeted the news to his fans after the ceremony. "Here"s a #TBT @Scotticenogle and me getting married last week.Took us 8 years but we did it!"
6. Sara Gilbert
The former Roseanne star married her partner Linda Perry in April 2014. While it wasn't super secret, fans didn't know about it until a spokesperson for Gilbert confirmed that the married after the wedding.
7. Elton John
Even though it wasn't really a surprise, Elton John and his longtime partner David Furnish married in England in December 2014. "We'll do it very quietly," he told Matt Lauer in March. "But we will do it and it will be a joyous occasion." He posted an Instagram pic of them signing the legal docs saying, "That's the legal bit done. Now on to the ceremony!"
9. Cynthia Nixon
Miranda may have had a lot of sex with men on Sex and The City, but Nixon and her girlfriend Christine Marinoni married in May 2012 after getting engaged at a rally to support same-sex marriages.
10. Jesse Tyler Ferguson
It was adorable when the "Modern Family" star tied the knot with his longtime beau Justin Mikita in front of his entire TV family. After the wedding he tweeted, "Never been happier. XO Goodnight!" while Mikita simply tweeted, "Husband."
Previous
Next
BEGIN