Photo: Lionsgate Television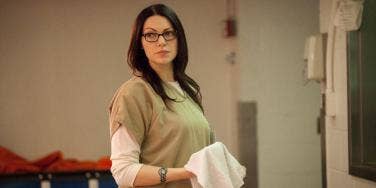 These stars all vote Red.
I don't understand politics. I know where I stand on social issues, but when it comes to the economy and foreign policy? I don't even know what those words mean. Like, I think that taxes are important, but I also don't like paying them. What does that make me? A Republican? A Democrat? A doomsday prepper? I honestly have no idea.
I do know that Hollywood generally wants me to be a liberal, so I usually just go with that. If famous people are telling me something, then that's good enough for me. I really shouldn't be allowed to vote, because "Johnny Depp told me to" probably isn't a good reason to choose a political leader.
While Hollywood is super liberal, there are a couple of Republican celebrities. I don't mean famous Republicans (like John Boehner or something), I mean people that are celebrities and also Republican. Crazy, right? They don't like to advertise it, because then everyone in Hollywood will be like "You can't sit at the cool table anymore!" Well, too bad for them, because I'm blowing up their spot! Here are celebs that are also Republican!
1. James Earl Jones
He has such a soothing voice, but don't be fooled by it! James Earl Jones is probably using that voice to argue for states' rights over federal.
2. Melissa Joan Hart
It turns out, what Clarissa was explaining that whole time was traditional family values. She also had a pet alligator in her bedroom, which is a super bad idea. If that's what Republicans stand for, pet alligators in children's bedrooms, then I don't think I can vote for that.
3. LL Cool J
Did you know that "LL Cool J" stands for "ladies love cool James?" Do you know what else ladies love? The government not regulating how much money businesses have to pay their employers. Also, I seriously doubt that ladies actually love a guy that refers to himself as "cool James." At least not any other ones who don't have LL's abs.
4. Sarah Michelle Gellar
Did you know that every vampire is a democrat? Vampires need strong social programs so they can get all that free blood from the government! Well, Sarah Michelle Gellar isn't going to stand for that! Not at all!
Photo: Warner Brothers Pictures
5. Adam Sandler
During the Clinton administration years, Adam Sandler made great movies. Once Bush took over, Sandler's films took a turn for the worse. They still made a lot of money though, so Sandler sided with the party that le's him be lazy and make awful movies and also still be rich at the same time. I can see why he'd be a fan of that.
Photo: Lionsgate Television
6. Laura Prepon
Did Laura Prepon ever even watch That '70s Show? Does she know that she was the star of a show that glorified pot use?! Pot! Republicans hate pot! They get high on life! Also, probably other drugs, like meth. They just don't want people to know about that.
7. Taylor Swift
Taylor Swift has never publicly declared a political affiliation, but consider: She started in country, which is typically conservative. She's never come out in support of gay marriage. She partnered with Papa John's when she released Red, and Papa John's is basically the sworn enemy of Obamacare. She's the daughter of traders who grew up on a Christmas Tree farm (read: tax break) in Pennsylvania. Her family is super rich, and we all know what side of the war on Christmas a Christmas Tree farm heiress is going to fall on!
Photo: Paramount Pictures
8. The Rock
WHY DON'T MORE REPUBLICAN CANDIDATES UTILIZE THE ROCK? If I saw a campaign commercial that was the Rock doing pushups, and then it said to vote for that person, I'd vote for that person FOREVER. Come on, Republicans, get it together!
9. Jessica Simpson
I've got no problem with Jessica Simpson. Let's be honest though, she probably really only identifies as Republican because someone told her she was and she just went with it. I seriously doubt she has any real opinion about foreign or domestic policy.
Photo: Universal Television
10. Hilary Duff
Aaron Carter is still obsessed with Hilary Duff. Maybe he can't get over her good looks and charming personality. Or maybe he's obsessed with her red state ideals? In all honesty, who knows what that guy is thinking. Also, who cares? Wait, what am I writing about again? Was this gallery supposed to be about how creepy Aaron Carter is?
11. Sylvester Stallone
Not only is he a movie star, Sylvester Stallone is a businessman. After dealing with the horrors of running a small business in America (Planet Hollywood), Stallone is definitely in favor of smaller government.
12. Joan Rivers
Joan Rivers was a Republican, because she thought she can do whatever she wants to her body (other than get an abortion).
13. Kevin Sorbo
Kevin Sorbo believes in both classic Greek literature and classic family values.
14. Meat Loaf
Food stamps can't be used to buy Meat Loaf. I mean, maybe actual meatloaf, but not the man. The singer known as Meat Loaf can't be bought with food stamps. You can't buy people with food stamps.
15. Tom Selleck
The Republicans really need to up their mustache bragging game. Tom Selleck's mustache could win any and probably every election, at the same time, if it needed to.
16. Tony Danza
Who's the boss? States' rights, that's who! At least, according to Tony Danza.
17. 50 Cent
Curtis Jackson thinks the minimum wage should be fifty cents an hour.
18. Heidi Montag
Oh wait, Heidi Montag isn't really a celebrity. She might be Republican, but that's no more significant than my neighbor being Republican.
19. Pat Sajak
Since government handouts aren't determined through the spin of the wheel, Pat Sajak just can't get behind them.
20. Vince Vaughn
When Vince Vaughn plays an underdog character, he pretends that he's a state fighting for its rights from the oppressive federal government.
Photo: Ralph Edwards Productions
21. Judge Marilyn Milian
The People's Court judge is a registered Republican in Florida.
22. Shannen Doherty
Shannen Doherty probably learned what a Republican was through Education Connection.
23. Chuck Norris
If you threaten Chuck Norris' right to a firearm or threaten a fetus in your own uterus, he may roundhouse kick you in the threat.
24. Kelsey Grammer
Kelsey Grammer has blamed his openly right-wing leanings for his occasional difficulty getting work in Hollywood.
Previous
Next
BEGIN