Photo: 20th Century Fox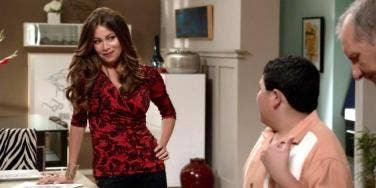 These stars all used surrogates to be come parents.
Even though it isn't talked about all that often, the use of pregnancy surrogates is becoming much more common these days. It's a good option for any couple that can't have kids the old fashioned way. It's also a good option for women who want to freeze their eggs so that they can focus on their careers and start a family later in life.
It recently came out, according to TMZ, that Sofia Vergara had frozen an embryo with her then-fiance Nick Loeb. Since that relationship has fallen apart (and she's moved onward and upward to Joe Manganiello), she's currently involved in a super uncomfortable conversation about what to do with the embryo. That's always the worst part about any breakup, figuring out who gets the frozen embryos.
I'm going to turn away from that conversation, because yikes! Super awkward. Instead, we're going to focus on the positive side of normalizing the use of surrogates. A lot more people have done it than you think, and here's a list of some famous people that have done it. (Also, #teamsofia on this one.)
Photo: 20th Century Fox Television
1. Sofia Vergara
Sofia Vergara and Nick Loeb had an embryo frozen to be used with a surrogate, but their engagement fell through. Now they have to figure out who gets that frozen embryo. Vergara's Modern Family co-star Julie Bowen spoke out supporting the Colombian bombshell. "She is one of the kindest, best people I know," Bowen told The New York Daily News. "I am so sad that on the eve of all of her great happiness that had to happen, but at the same time, I know that she will be perfectly fine. She is a wonderful person. She's such a good person."
2. Kelsey Grammer
Kelsey Grammer and ex-wife Camille Grammer used a surrogate for their two children.
3. Bryan Singer
The director of most of the good X-Men movies, Bryan Singer asked one of his best friends, actress Michelle Clunie, to be the surrogate for his child. Singer must be an awesome friend, because that's a huge favor.
Photo: Universal Pictures
4. Elizabeth Banks
Elizabeth Banks has had two children through surrogates and has called it a "wonderful experience."
5. Elton John
Elton John actually worked things out with his partner so that their surrogate child arrived on Christmas day. That is some precise planning!
Photo: 20th Century Fox Television
6. Neil Patrick Harris
The former child star and his partner had a son and a daughter at the same time through the use of a surrogate. They also take adorable Halloween costume pictures as a foursome.
Photo: Fox 21 Television Studios
7. Matt Bomer
Matt Bomer and his partner actually had twins when they went to a surrogate. Which is the ultimate "two for the price of one" sale ever!
Photo: Warner Brothers Television
8. Sarah Jessica Parker
After already having one child with her husband, Matthew Broderick, Sarah Jessica Parker decided they wanted more. The couple went through a surrogate and had two more daughters.
9. Nicole Kidman
Nicole Kidman and husband Keith Urban had their second daughter through a surrogate. They also named her Faith, which we're betting the surrogate mother didn't know ahead of time. If you're going to carry a baby, you probably want to make sure it ends up with a normal name.
10. Katey Sagal
Sons of Anarchy and Married ... With Children star Katey Sagal used a surrogate for her third child, which was her first with her current husband.
Previous
Next
BEGIN