Photo: instagram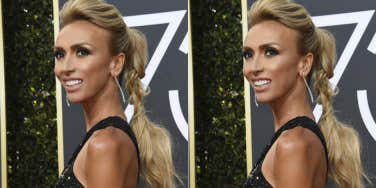 These brave stars all beat breast cancer — and inspired us all.
Breast cancer affects just about everyone at some point, and the rich and famous aren't immune to the disease. A slew of celebrity women were diagnose and became breast cancer survivors.
Back in 2015, Rita Wilson, seen in The Good Wife, Girls, and Full Circle (and happy wife of Tom Hanks), announced that she had undergone a double mastectomy, followed by reconstructive surgery after being diagnosed with a type of breast cancer. She made a full recovery, crediting the positive outcome to excellent doctors and that fact that she trusted her gut and got a second opinion.
---
---
According to ­Breastcancer.org, in 2014, there were 232,670 new cases of breast cancer in women in America and 40,000 of those were expected to lose their battle. Second only to skin cancer, breast cancer is the most commonly diagnosed cancer in American women. While breast cancer is hereditary, 85 percent of American women will be diagnosed who do not have any history of cancer, which is why monthly self-exams, regular mammograms, and second opinions are so critical.
No matter the diagnosis, facing cancer and the public at the same time can't be easy. And yet, these women face their diagnosis and treatment bravely and want to share their stories in the hope of helping other woman stay healthy.
How many others have gone through the same thing as Rita Wilson and survived? More than you would think.
The public sometimes forgets that celebrities aren't invincible. Being on the screen, in the papers, and everywhere online can make a celebrity seem immortal. Especially when in all their photos, they seem to be having the time of their lives, going on vacations, and attentind parties and events. We easily forget that behind closed doors there is a lot that goes on that is quite unpleasant.
These women are true breast cancer survivors and have gone through a lot so far in their lives, always coming out on top. It is horrible they had to fight off this disease but it is also quite inspiring that they are here to show that it didn't beat them.
If there is any positive message that comes out of cancer, it's that being strong and keeping faith can help you overcome these obstacles. Here are 12 celebrity women who have kicked cancer's butt and are here to show you that they are stronger than ever.
---
---
1. Giuliana Rancic
In 2011, E! News star Giuliana Rancic was diagnosed with breast cancer at age 36. Her tumor had been found during a routine mammogram before her next course of IVF began.
After a double lumpectomy, double mastectomy, radiation, and reconstruction surgery, Rancic is fully recovered, though still on some anti-cancer medications.
2. Kylie Minogue
This Australian singer was diagnosed with breast cancer at age 36 in 2005. After seeing one doctor and being told there was nothing wrong, she trusted her gut and got a second opinion from another doctor, who found a cancerous tumor.
After a partial mastectomy, followed by chemotherapy and radiation, the singer is now cancer-free and credits her survival to trusting her gut and getting a second opinion.
3. Christina Applegate
At just 36 years old, Applegate developed a cancerous tumor in one of her breasts. Because she carried the BRCA-1 gene, and her mother was a repeat survivor, Applegate had a much higher chance of developing cancer.
In an effort to reduce her chances of being diagnosed again, she decided to undergo a double mastectomy and is now cancer-free.
4. Cynthia Nixon
When Cynthia Nixon was diagnosed in 2006 at 40 years old with breast cancer, she choose not to announce it to the public, later saying she wanted privacy. However, in 2008, she chose to share her story to encourage women to get routine mammograms. She now works as an ambassador for the Susan G. Komen Foundation.
5. Melissa Etheridge
At age 43, Melissa Etheridge found a cancerous tumor during her monthly self-exam. In 2004, she underwent a lumpectomy, followed by rigorous chemotherapy and radiation. Etheridge has lost many family members to cancer, including her father, grandmother and aunt.
6. Sheryl Crow
Diagnosed in 2006 at age 44, Sheryl Crow credits her survival to early detection and self-exams. After a lumpectomy and radiation, Crow has been cancer-free for over 10 years.
7. Hoda Kotb
The Today show co-anchor was diagnosed with breast cancer in 2007 at age 43. She had never had a mammogram before, and the lump was found during an annual gynecologist's exam. She underwent a mastectomy and reconstructive surgery, and is now cancer free.
At first after her diagnosis, Kotb did not announce her condition; however, during a Breast Cancer Awareness segment, she chose to share her story to encourage women to get mammograms.
8. Olivia Newton-John
In 1992, Olivia Newton-John found a small lump on her breast. After a mammogram and needle biopsy both came out negative, she trusted her gut and decided to have a surgical biopsy done as well.
At age 44 she was diagnosed with breast cancer, the same week that her father passed away from cancer. After a partial mastectomy and reconstructive surgery, she is now cancer-free.
9. Robin Roberts
The Good Morning America star was diagnosed with breast cancer in 2007 at age 46. After eight rounds of chemotherapy, followed by intense radiation, Roberts is cancer-free.
However, she did develop a condition called Myelodysplastic syndrome in 2013, often caused by cancer treatments, and needed radiation and bone marrow transplants.
10. Kathy Bates
A true survivor, Kathy Bates has been diagnosed with, and beaten, cancer twice. The first time, in 2003, she beat ovarian cancer. At age 64 in 2012, the star was diagnosed with breast cancer. After a double mastectomy, she is now free of her cancer for a second time.
11. Maggie Smith
In 2006 Maggie Smith had a cancerous lump removed from her breast. Perhaps the most amazing part of her story is that she continued to film Harry Potter And The Half-Blood Prince while undergoing chemotherapy and radiation.
12. Angelina Jolie
While Angelina Jolie was never diagnosed with cancer, she does have a strong family history of both breast and ovarian cancers. Her mother, grandmother, and aunt all died from cancer, and when Angelina tested positive for the BRCA-1 gene, she choose to be proactive.
After a double mastectomy in 2013, Jolie decided not to risk her 50 percent chance of developing ovarian cancer, so she had her ovaries and fallopian tubes removed as well.
Previous
Next
BEGIN