Photo: Warner Brothers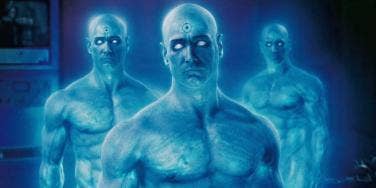 These guys all got buck-naked on the big screen.
When I was a kid, the internet wasn't the same as it was now. I don't know what it's like for kids these days, but for me and my friends at least, we all had a list of movies that somebody got naked in. We were in high school and the internet was slow, we didn't have a lot of options. Also, no one's mom or dad would question why somebody owned a copy of Titanic. Yes, we used to be so desperate that we'd sit through all of Titanic just to watch Leo sketch Kate Winslet. It wasn't great, but we all survived. Kids these days don't know how great they have it.
I have to imagine that it's much more exciting for girls when they find out that there's a movie where a guy bares all. Women getting naked in movies is kind of common. Basically, 1 out of every 3 horror movies has a naked woman in it. If you're looking to see a little ding-dong, however, that's much more rare.
To make myself feel better about owning Taking Lives, starring Angelina Jolie (no one even remembers the plot of that movie), I've done the research and compiled a list of male actors who have bared all. YOU'RE WELCOME, LADIES. Check it out, and then go have a ding-dong movie marathon!
Photo: Universal Pictures
10. Jason Segel in 'Forgetting Sarah Marshall'
If you're into big, cuddly teddy bear dudes (and let's be honest, who isn't?), check out Forgetting Sarah Marshall for Jason Segel's bing-bong. He shows it a couple of times, so you get a lot of opportunity for naughty giggles.
9. Ken Jeong in 'The Hangover'
The Hangover teased us with a glimpse of Zach Galafianakis' bopper, but we get a full shot of Ken Jeong's about halfway through the movie. He gets into a naked fight with the film's heroes, oh my!
8. Ewan McGregor in 'Trainspotting'
This movie has everything! It's got an anti-heroin message (cool!), some laughs (super cool!) and a shot of Ewan McGregor's light-saber (ULTRA COOL!)! It's got full frontal male nudity and a good message! What more could you want?
7. Kevin Bacon in 'Wild Things'
Looking for some bacon? Then check out Wild Things for Kevin Bacon's bacon! Oh man, I don't feel good about writing that. Not at all.
6. Jude Law in 'The Talented Mr. Ripley'
You only get a glimpse of it, but you can check out Jude Law in The Talented Mr. Ripley. Really, a glimpse is all you need, isn't it? Don't be selfish.
5. Mark Wahlberg in 'Boogie Nights'
While it may or may not be a fake one, Mark Wahlberg shows his Marky Mark at the end of Boogie Nights. At the end of the day, does it really matter if it's real or not? That's the magic of movies, even special effects can seem real!
4. Michael Fassbender in 'Shame'
During the Sony Pictures email leak, one of the most interesting revelations was a producer talking about Michael Fassbender's gigantic unit. Well, check out the movie Shame and see if you agree. Does Michael Fassbender have a big enough buddy that it makes you uncomfortable?
3. Ben Affleck in 'Gone Girl'
I don't know what everyone's problem with Ben Affleck is, because the guy is a hunk and you know it! You can catch a brief glimpse of his Matt Damon in Gone Girl, and you should! He deserves it!
2. Billy Crudup in 'Watchmen'
Look, this is a digitally created special effect, I know. It's also blue and it glows. Still, Billy Crudup played Dr. Manhattan in Watchmen, and he's naked for almost the entire movie. Also, is it really a problem that it's blue and it glows? Isn't that what everyone wants?
Photo: The Weinstein Company
1. Jason Mewes in 'Zack And Miri Make A Porno'
While Zack And Miri Make A Porno wasn't a huge hit, it's still a pretty good movie. Jason Mewes plays an amateur porn star, but you don't see his Silent Bob until the very end. Also, Seth Rogen accidentally plays with it, so it's a pretty exciting scene.
Previous
Next
BEGIN