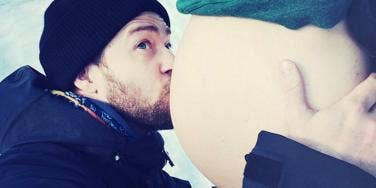 There's nothing quite as natural and as beautiful as a bare celeb baby bump on full display.
The celeb baby bump — it's like an accessory that pretty much replaces any sort of bling. While we love to pay extra close attention to the clothes and couture in which celebs tend to cloak their ever-expanding baby bumps, there's nothing quite as natural and as beautiful as a bare baby bump on full display.
With the advent of social media, celebs can share intimate, beautifully bare and intimate baby bump snaps at will. But in the pre-Facebook/Instagram/Twitter age, including the era that pre-dates MySpace, celebs also took to major magazine covers to show off their baby bumps. Demi Moore dared to bare her baby bump on the cover of Vanity Fair, as did Britney Spears for Harper's Bazaar.
But whether it's a glossy publication cover or an Instagram snap, there is nothing quite like a bare bump and the natural female form, bursting with baby, to take our breath away. Women should be proud of their baby bellies, and Vanessa Minnillo Lachey, Jessica Simpson, and more have taken to social media to share their bare bumps.
Since pregnancy is a temporary condition, these celebs captured their bodies in this form and many of these shots feel so unintentionally artful.
15. Liv Tyler
This black and white image is actually the bare bump of the actress while preggers with her second son.
2. Jenelle Evans
The Teen Mom star's baby bump wasn't exactly bare, despite her wearing a bathing suit. The tacky tattoos and belly button piercing detracted from the bump's beauty.
3. Jaime King
The model wore a bikini to bare her bump in a photo taken by a photog pal and posted on IG. She's also wearing a hat, but we're staring at dat bump.
4. Jessica Biel
Justin Timberlake planted a big ol' smooch on wife Jessica Biel's exposed, milky white bump, which confirmed the rumor that they were expecting.
5. Demi Moore
Demi Moore was an OG bare bump flasher, doing so for Vanity Fair in 1991 while seven months preggers and expecting daughter Scout. She rocked that hand bra.
6. Cindy Crawford
The model's hand substituted for a bra on her bare bump W cover.
7. Britney Spears
The sexpot singer posed in the buff and while with child for Harper's Bazaar. Brit Brit made gestation look hawt as lava. She makes everything sexy, pretty much.
8. Jessica Simpson
The singer/actress/designer showed off her expanding bump with a mirror selfie.
9. Vanessa Lachey
Whoa! That's some bump! The former MTV host was about to pop with her second child. #BiggestBumpEver
10. Alessandra Ambrosio
The Victoria's Secret model donned a bikini to show off her nascent baby bump, which was protected by her baby girl's hand.
11. Hilary Duff
The singer and actress was el preggo with son Luca during the holidays, so she opted to paint her baby bump with the spirit of the season.
12. Victoria Beckham
The sun-worshipping designer was super preggers with (only) daughter Harper when hubby David Beckham snapped this simple and natural shot. Posh appeared to gain weight only in her belly and Harps was adorbs, even while in utero.
13. Hilaria Baldwin
Alec Baldwin's wife snapped a bare belly shot while expecting. See her teeny tiny baby bump!
14. Molly Sims
Molly Sims dared to bare her bump while wearing a bikini on the beach and while posing with family. Beachy baby bumps rule, too!
1. Kim Zolciak
The Real Housewives star, who has been popping out kids with quickness in the past few years, cradled her perfectly round bump.
Previous
Next
BEGIN